$500 – Teton Valley Aquatics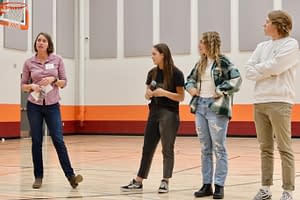 Youth Philanthropist partially funded Teton Valley Aquatics Summer Pool Program that will provide swim lessons and aquatic recreation to Teton Valley during the summer months.
In 2021 Teton Valley Aquatics offered 213 beginner lessons and 119 adult activities. In 2022 they plan to grow to over 400 lessons and 4 days/week of adult activities with proper equipment to best serve our community.
The goals for the Summer Pool Program are two-fold; to improve the water safety of children in our valley by offering learn-to-swim lessons and teaching important water safety skills and providing aquatic recreation for adults in our community. Their goal is to fill over 40% of lessons with non-swimmer classes, helping to teach at least 160 more children the skills to be around water safely, this will show the lesson program is successful. They will also provide end-of-session surveys to all parents to see how their children improved and instructors will evaluate the participants' skills at the end of the session to measure the improved water safety of children in Teton Valley. In order to meet our goal of providing aquatic recreation to adults in the community, we will keep track of the number of participants in each adult program, with a goal of seeing a 4x increase from 2021 to over 400 adult activity participants in 2022.
Though Teton Valley Aquatics had a successful summer pool program in 2021, the program did not have everything it needed to fulfill all the needs of the community. To improve on our 2021 program, they are working with local funding sources to upgrade equipment. These grants address improving access, security, energy savings, and storage to make the pool safer and more accessible for summer 2022.
Grant funds from the Youth Philanthropy program will be used to purchase equipment for the participants during lessons and adult activities to improve their experience. During summer 2021 there were only 2 kickboards and some dollar store goggles for kids to use at the pool during lessons, and only pool noodles for water aerobics to use. This equipment worked in the first summer, but to improve, they plan to purchase 5 more kickboards ($15 each), 5 pull buoys ($10 each), 8 pairs of high-quality kids goggles ($14 each), and new dive rings and sticks ($20) for swim lesson participants to use during their classes. For adult activities, they will purchase 10 sets of water dumbbells ($15 each) for the water aerobics classes to use instead of pool noodles. They will also purchase a rolling, lockable storage bin ($236) to keep the equipment safe and organized.
With all of these improvements, Teton Valley Aquatics is working towards providing the safest, most enjoyable, and accessible pool in Teton Valley until the full aquatics and recreation facility is completed. Youth Philanthropists' appreciated that this equipment would continue to offer high-quality lessons and aquatic activities to our community for years to come.