$4,600 – Teton Valley Food Pantry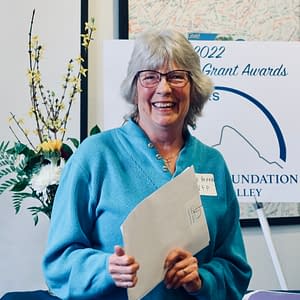 The Community Foundation of Teton Valley was honored to award a $4,600 grant to the Teton Valley Food Pantry to remodel its space to accommodate as a stainless-steel sink with a stainless-steel food prep area. The Community Foundation strongly supports Teton Valley Food Pantry's efforts to improve its efficiency and safety and in repackaging food for the community.
Teton Valley Food Pantry's mission is to distribute fresh and nutritious foods to food insecure community members needing help. In 2019, it changed the organization from a donation dependent pantry (mostly canned goods and non-perishables) to one that provides what clients and their families need for their health and proper nutrition. To this end, TVFP orders many items from a commercial food distributor in bulk that often require that it repack items to more manageable amounts.
The Food Pantry recently moved to a new location at the old high school/middle school/elementary school at in Driggs. While this location is ideal for the community in a number of ways, it does not have a sink or proper food handling area. Compliance with food safety regulations is an essential part of TVFP's services. While staff and volunteers sanitize regularly and especially after each task, without a sink and food prep area they are not in compliance.
The remodel of the existing space that Teton Valley Food Pantry now occupies would include a wash station (stainless steel utility sink) and a proper food handling area would allow them to safely repackage food for clients, keep its facility and staff/volunteers safe, and be in compliance with public health regulations.
This grant will support the removal of unneeded and pre-existing plumbing features and include the installation of appropriate plumbing lines and drains that will support a stainless-steel utility sink and a work table for food preparation area. The work will be done by an insured and licensed plumber.
The Community Foundation commends the important work of Teton Valley Food Pantry in remodeling its food preparation area in accordance with food safety regulations as well as the essential services it provides to the community.