$500 – Teton Valley Foundation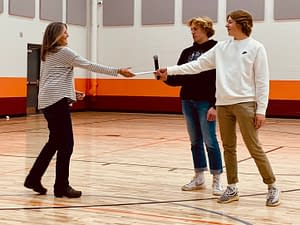 Youth Philanthropist chose to partially fund Teton Valley Foundation's proposal to increase ice skate rentals at Kotler Ice Arena by purchasing more popular sizes to better serve the growing userbase. As the Foundation grows, they continually run out of popular skate sizes at busy events like Friday Night Ice or Pick-Up Hockey. These funds will provide more options for both kids and adults.
Teton Valley Foundation's Kotler Ice Arena provides safe and affordable recreation that reaches across all socio-economical demographics in our community, offering activities for kids and adults that are less of a financial commitment than other winter sports like skiing and snowboarding.

From Wintersports programs through the local schools and public open skating to adult learn-to-skate series and stick and puck, participants connect over the shared experience of learning something new or enjoying a sport they've loved since they were kids. Recreation brings us closer together and strengthens our bond as a community.
Over the past three winter seasons, the rink's user base has grown 20%. As they grow, the Teton Valley Foundation is focused on continuing to meet the needs of ice users by providing better, higher-quality gear in ample sizes that fit the group of skaters.
The Teton Valley Foundation plans to add a new fleet of high-quality ice skates for figure skating, with ample options within popular sizes for both youth and adults. By providing quality, readily-available gear, they can better serve users and support their interest in ice skating. They will purchase five pairs each of Women's Rave Figure skates in sizes 7 through 12, and Youth Rave Figure Skates sizes 1 through 6. Providing these additional skates will allow any person to enjoy the rink, regardless of whether or not they have gear.
Youth Philanthropists have seen the rink grow and appreciate the physical and social well-being it brings to our community. Through this grant, students hope the new additions to the skating rental fleet mean more access for more users and better service to the community with more affordable recreation opportunities.