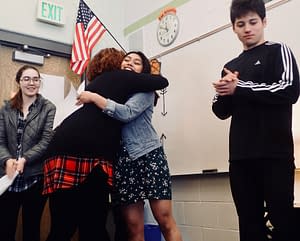 Spanish Language for K-3 Students
The Community Foundation's Youth Philanthropy students awarded $1,000 to the Teton Valley Education Foundation towards the continuation of Spanish Language classes for elementary students. The program teaches
Conversational Spanish to all TSD401 K-3 students not enrolled in the Dual Immersion Program.
While the current Conversational Spanish Program is still in its first year, it has received encouragement from both parents and teachers. Participants want to continue the program and possibly grow it to 4thgrade over time. According to Gig Luk, an associate professor at Harvard's Graduate School of Education, "bilingualism is an experience that shapes our brain for a lifetime." More than 40 years of research consistently documents the power of bilingualism. Research has shown that there is a critical period for learning languages.In particular, during early childhood the brain undergoes tremendous growth.
In TSD401, 29% of the students are Hispanic with 1% listed as other races. Approximately 20% of these students are English Language Learners meaning that they are Spanish speakers learning English. These students tend to cluster socially with other Spanish speakers thus encouraging segregation at the schools. Younger Caucasian students tend to get frustrated at not understanding Spanish and can lash out at Hispanic students or not accept them. Learning Spanish will help our students increase their cognitive abilities and promote a greater understanding and empathy towards Spanish speaking students. The hope is twofold – that students will learn secondary languages from each other and that these lessons will provide a sense of pride and accomplishment to Spanish speaking students who are asked to mentor their friends.
THS students agreed that having a program like this when they were younger could have greatly benefitted both their education, acceptance and experiences throughout their time in District 401.