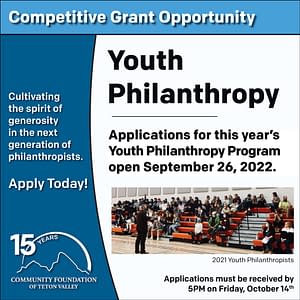 The application period for the Community Foundation of Teton Valley's Youth Philanthropy Program, in partnership with Dual Enrollment Government classes at Teton High School, opens on Monday, September 26, 2022, at 9:00 AM. Applications are due on Friday, October 14th at 5 PM.
Now in its 12th year, the Youth Philanthropy Program is an excellent opportunity to introduce the concept of philanthropy to the next generation while helping them to understand better the significant and impactful roles that nonprofits play in our own community. Students gain a keen understanding of the granting process as they thoughtfully review grant applications, interview select nonprofit leaders from applying organizations, and award grant funds to local charities. Not only does the program help develop a deeper understanding of the granting process, but students also get a firsthand look at the many roles that nonprofits play in our community and in meeting the needs of their fellow citizens.
According to one of last year's student philanthropists, "I will be more likely to donate. I have a clearer understanding of the needs in our valley and how much money is needed to try to fulfill those needs. If I have extra money or time, I will definitely be investing it into our community through our local nonprofits."
The Youth Philanthropy Program is made possible through the generosity of Tin Cup Challengers and other private donors who partner with the Community Foundation of Teton Valley to elevate lives through the power of generosity. The Challenger Fund provides $5,000 to award to nonprofits. Additionally, Richard Grundler, who deeply believes in this program, has added an additional donation. Youth Philanthropists will be awarding a total of $7,000 to local nonprofits serving Teton Valley.
Local organizations interested in applying as part of the 2022 Youth Philanthropy Grant Program may visit www.cftetonvalley.org for an application and more detailed grant information. For further questions or requests, please call 208-354-0230.