The Community Foundation of Teton Valley would like to offer our sincere gratitude to all of you who supported your favorite nonprofits during the 10th Annual Tin Cup Challenge.
Your contributions added up to make this our most successful year to date – breaking all previous records and raising $1,538,727! This is a 71% increase over our first Tin Cup in 2008. In just 10 years, the Tin Cup Challenge has raised $11 million for the health and well-being of our community of 10,000 residents.
We are thrilled to report to you that the number of donors participating in the Tin Cup continues to grow each year, drawing more and more of your friends and neighbors toward philanthropy.  When we first began in 2008, 611 donors gave through the Tin Cup. A record 986 donors gave during this year's Tin Cup Challenge – which is a 61% increase in residents engaged in charitable giving in just 10 years. This means that ONE out of every FOUR households in Teton Valley participated in the 2017 Tin Cup Challenge.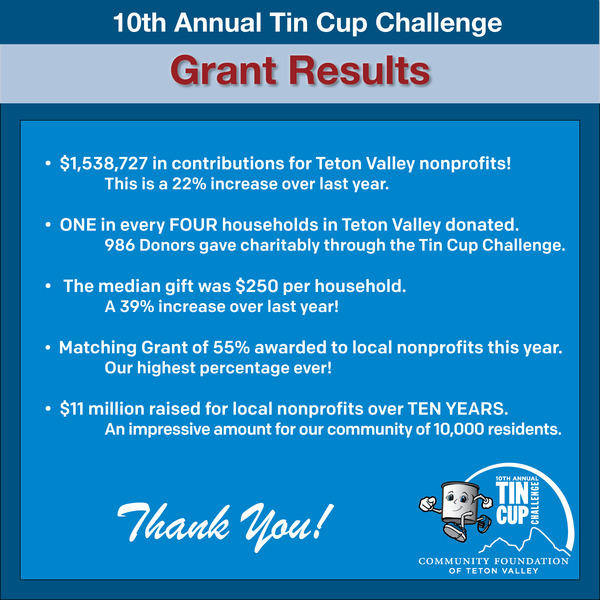 Thank you for investing in the community of Teton Valley and its nonprofits! Your generosity helped make the 10th Annual Tin Cup Challenge our best year ever.
---
In honor of our 10th anniversary, we put together a short video that illustrates our success as a community. The Tin Cup Challenge is an impressive program that has grown over the last decade because of your continued support. As you know, Tin Cup funds provide our local nonprofits with unrestricted operating funds on an annual basis, allowing them to greatly expand the reach of their programs and services throughout our community. Teton Valley nonprofits will put this year's $1.53 million to good use in our valley throughout the next 12 months – enriching our lives in a multitude of ways. Thank you for your support!