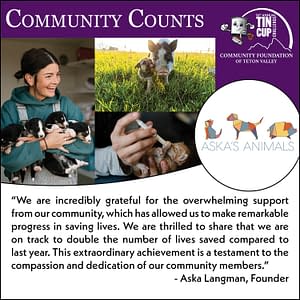 We are incredibly grateful for the overwhelming support from our community, which has allowed us to make remarkable progress in saving lives. In fact, we are thrilled to share that we are on track to double the number of lives saved compared to previous years. This extraordinary achievement is a testament to the compassion and dedication of our community members.
To further enhance our impact, we are excited to announce the expansion of our program. We have recently hired a full-time dog trainer who will be dedicated to providing invaluable canine behavior resources to community members and adopters. This addition to our team will enable us to offer comprehensive support, ensuring that both dogs and their guardians have the necessary tools and knowledge to build strong and positive relationships.
By investing in a full-time dog trainer, we are emphasizing our commitment to the well-being of our furry friends and the ongoing support we provide to our community. We believe that by empowering individuals with the resources and guidance they need, we can create a more compassionate and educated community, resulting in happier and healthier lives for all.
We extend our deepest gratitude to our generous community members who have made this expansion possible. Together, we are making a significant difference in the lives of animals and strengthening the bond between humans and their beloved pets.