Thrive Strategic Planning Training Celebrates Project Completion
Local nonprofit organizations gathered on October 10th to celebrate a year-long commitment to strategic planning. The cohort-based training, started in the fall of 2022 with eight groups, offered strategic planning guidance in a multi-month format. Over the year, organizations gained skills and tools to build and execute an effective strategic plan. Each group also received free access to easy-to-use strategic planning software for two years. As one nonprofit leader commented, the format helped "provide a container" for a process that can otherwise come across as daunting.

The Community Foundation of Teton Valley was honored to partner with Mission Met, consultants that help nonprofits develop and execute their vision, and the organizations that participated. The group model allowed organizations to learn from each other while building community and camaraderie. Participating organizations realized the living nature of their plans in this venue and received strategic planning certificates. 
Thank you to the Tin Cup Business and Community Challengers for helping to make programs like this possible. According to one participant, the subsidized cost structure made the program accessible when it would have otherwise been "financially out of reach". With strong planning, nonprofits will achieve their varied missions that benefit all of Teton Valley and its communities. 
___________________________________________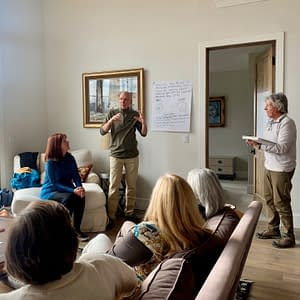 Many thanks to our generous Board of Directors for taking a day for strategic planning this month and Sandy Hessler for providing a lovely location to connect, renew, and celebrate a successful year. The day consisted of big picture visioning along with a discussion of shorter-term opportunities that address community needs and thoughts. We greatly appreciate the our board's dedication, support, and thoughtful ideas. Together, we look forward to elevating lives long into the future.