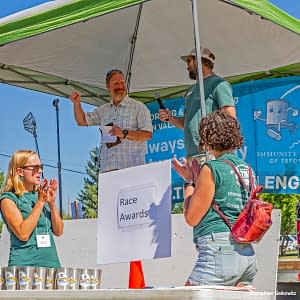 The Community Foundation of Teton Valley is pleased to announce that Dan Verbeten, Executive Director of Teton Valley Trails & Pathways, has been honored with the 2023 Dawn Banks Nonprofit Leadership Award. This distinguished accolade recognizes Dan's outstanding contributions as a local nonprofit leader who exemplifies excellence in nonprofit best practices. The award serves as a testament to Dan's remarkable achievements and pays tribute to the late Dawn Banks, a fervent advocate for the nonprofit community who dedicated herself tirelessly to uplifting life in Teton Valley and supporting local missions. 
Now in its seventh year, the Dawn Banks Nonprofit Leadership Award holds immense significance within the community. It represents a commitment to acknowledging and celebrating the exceptional leaders who have dedicated their lives to the betterment of Teton Valley. To commemorate this well-deserved honor, the Community Foundation of Teton Valley bestows a $1,000 grant with this award, underscoring our appreciation of Dan's invaluable contributions.
Dan's involvement with Trails & Pathways spans over a decade, during which he has served as a dedicated Board member and Executive Director. His initial encounter with Teton Valley as a local NOLS instructor, combined with an unforgettable winter visit, solidified his decision to make this community home. Hailing from the Chicago area and armed with a degree in Psychology from the University of Iowa, Dan has always possessed a wide range of diverse interests. However, his unwavering passion for trails and path systems has been a constant thread throughout his life.
Over the past year and a half, Trails & Pathways has garnered additional recognition, further highlighting the organization's exceptional accomplishments. The Regional Forester Award for the Intermountain Region, presented in acknowledgment of their fruitful partnership with the USFS and shared stewardship of National Forest Lands, serves as a testament to their commitment to environmental sustainability. Furthermore, the Idaho Recreation & Parks Association bestowed upon them a prestigious 2022 award for their exemplary work in Parks, Trails, and Conservation. Noteworthy achievements such as the establishment of the year-round Southern Valley Trails system at Mike Harris, the collaborative building of the Teton Creek Corridor, and the expansion of winter trails to encompass six venues exemplify the organization's ongoing dedication and commitment. It is worth noting that the local trails experienced a staggering 52,000 visits this past winter, a testament to the indispensable resources provided by Trails & Pathways, all made possible through the generosity of donations—an accomplishment that Dan considers unprecedented.
Dan embodies the true spirit of leadership by leading with a remarkable combination of collaboration, trust, and respect. As an avid learner, he continually seizes opportunities to participate in workshops hosted by the Community Foundation, ensuring the implementation of best practices and cultivating a healthy work environment. In his own words, Dan humbly acknowledges, "No award can be accepted without thanking my co-workers and board members of Trails & Pathways. We have an incredible crew that has helped elevate our work and puts us in a position to win awards."
The Community Foundation of Teton Valley wholeheartedly commends Dan Verbeten for his passion, commitment, and collaboration. Through his leadership, Teton Valley Trails & Pathways has blossomed into an organization that epitomizes the spirit of community, enriching the lives of countless individuals and fostering trails and pathways connected community.