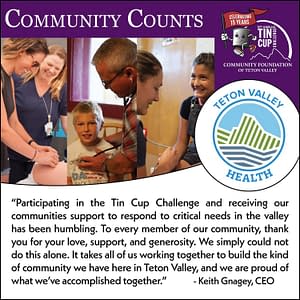 Our mission at Teton Valley Health is to encourage and support a healthier community, and through the support of Tin Cup, we have been able to do that and so much more! Participating in local events and providing hands-on experience with things like "Stop the Bleed" and Automated External Defibrillator (AED) training, in addition to offering basic health screenings, has been incredibly rewarding. In addition to these important community activities, and through the generous support of Tin Cup, we have also been able to provide COVID-19 tests and immunizations for our community.

Through the generous amount of donations Teton Valley Health received last in last year's Tin Cup Challenge, we were able to purchase a significant supply of Veritor System SARS-CoV-2 Rapid Tests to provide to the public free of charge. The unfortunate nature of testing supplies throughout this pandemic has been that they have not been cheap to acquire. As a healthcare organization, we have utilized federal aid, grants, and a significant portion of our own budget to ensure we have had sufficient supplies for our community. As a result, in 2021 we administered over 13,000 COVID-19 tests and nearly 6,500 COVID-19 vaccines.

As we look ahead, Teton Valley Health is now working towards strengthening the mental health services available in our community. Just as our friends and partners providing for mental health needs in our community have seen, we too have seen a significant increase in mental health challenges in the valley as a healthcare facility. As a result, we are taking steps to strengthen and improve our contribution to these important mental health needs in our community. Initially, we'll be looking to expand the outpatient services we offer the community through individual counseling and group programs. Our first emphasis will be in addiction recovery through substance abuse treatments. We then hope to expand to meet other outpatient mental health needs as we move forward.

Participating in the Tin Cup Challenge and receiving our communities support to respond to critical needs in the valley has been humbling. To every member of our community, thank you for your love, support, and generosity. We simply could not do this alone. It takes all of us working together to build the kind of community we have here in Teton Valley, and we are proud of what we've accomplished together.

From the bottom of our hearts, thank you for your involvement and support through the Tin Cup Challenge!
Sincerely,
Keith Gnagey, CEO