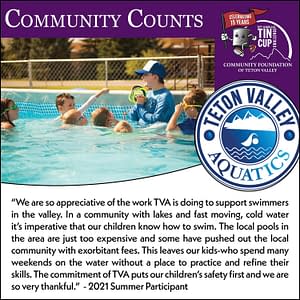 Teton Valley Aquatics was founded in 2016 to partner with the City of Driggs to build a year-round aquatics facility in Teton Valley. The Community Foundation of Teton Valley has been integral in supporting our efforts for these past 6 years. Their competitive grant program has provided us with funding for our programming including Winter Sports, Learn to Swim programs, and our current Summer Pool Program.
We have also been a part of the Community Foundation's Tin Cup Challenge since 2017. The donations we have received through this program have helped us to grow from an entirely volunteer-run organization in 2016 to a nonprofit with two staff members in 2022, serving over 300 people each year with aquatics programming.
Funds received through the Tin Cup Challenge also allow us to employ an Executive Director, who is able to work year-round to progress the aquatics facility project and move us closer to having a community pool in Teton Valley.