Friends of Teton Valley Sports & Wellness: $2,000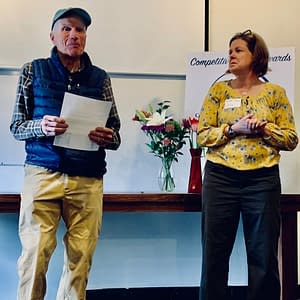 The Community Foundation of Teton Valley is honored to award a $2,000 grant to Friends of Teton Valley Sports and Wellness (FTVSW). This full grant award will update the Teton County Recreation and Public Access Master Recreation Plan to reflect progress in implementing the plan and changes in recreation demand and opportunities since the plan's inception in 2014.   
The people of the Teton Valley love recreating and participating in sports. These are vital components of our community's health and well-being. Access to fields, spaces, programs, and services is essential to our community's vitality. It is critical in advancing health equity, improving individual and community-level health outcomes, and enhancing quality of life.
In 2014, Teton County and the three incorporated cities adopted the Teton County Recreation and Public Access Master Plan (Rec Plan). They have since made impressive strides in elements of this plan. Examples include establishing Primrose and Buxton parks and developing the Teton County Waterways Recreation Ordinance. However, a patchwork approach to recreation in Teton Valley currently exists, with a mix of nonprofits providing structure only for their particular sport or recreation mission. FTVSW was formed to help further implement the Rec Plan.
A key component of the Rec Plan is establishing a single organization to provide cross-cutting coordination or support to sport and wellness nonprofits. Most nonprofits specialize in one sport or area, which can lead to user-group conflict as groups compete for limited resources, physical space, leadership, and funding. FTVSW strives to help fulfill this coordination need.
In 2021 and 2022, FTVSW conducted several focus groups and surveys to determine the wants and needs for sports and wellness within the Teton Valley. These focus groups brought together sports and recreation nonprofits to understand their needs and help focus FTVSW's goals. Additional focus groups incorporated a broad selection of community members to understand their needs and to pursue potential approaches to address them. A public survey collected similar information from a self-selecting sample group.
One of the key findings from FTVSW's work was that there remains a need for an entity to provide cross-cutting support and to help stabilize funding for sports and wellness within the valley. FTVSW has taken the first step to help facilitate this support by establishing a website that serves as a single source to find sports, recreation, and wellness activities in the valley. The next significant component of this effort is updating the Rec Plan, including documenting the progress achieved and the changes that have occurred since the 2014 Rec Plan was completed and updating the facility and program needs more recently identified.
The Community Foundation grant will support FTVSW in working with its partners from the cities of Driggs, Victor, and Tetonia, along with Teton County, to update the Rec Plan to reflect progress made in implementing the plan as well as changes in recreation demand and opportunities. The findings of the focus groups and surveys will also be incorporated. FTVSW, with the help of Harmony Engineering, will update the plan to provide a current picture of existing recreation, sports, and wellness activities and facilities within the valley. This includes documenting the activities in the 2014 plan that have been completed since the plan's inception and updating the existing inventory along with revisions to the economic and demographic information in the plan.
FTVSW will establish an advisory group comprised of many original participants and organizations who helped develop the 2014 plan. This group will be used to help gather updated information and provide a review of the updated document. Once the cities and county approve, this plan will guide improvements to facilities and programs, enable greater cross-cutting coordination, and define a path forward for recreation coordination, facilities, and access in Teton Valley.
The Community Foundation commends FTVSW's efforts, in coordination with its partners – the Cities of Driggs, Victor and Tetonia, and Teton County, to incorporate activities completed, updating the existing inventory, demographic information, and recent community input to further the goal of increased coordination and long-term planning of sports and recreation in the Teton Valley.