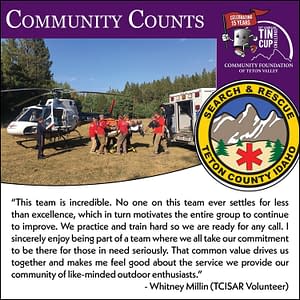 Teton County Idaho Search and Rescue (TCISAR) is a group of volunteers dedicated to providing the public prompt, professional emergency services for people who are lost, injured, stranded, or in need of rescue primarily within Teton County Idaho. Our team and foundation are made up of 100% volunteers and we owe much of our success to the Community Foundation of Teton Valley, specifically the Tin Cup Challenge and generous Community and Business Challengers. The Tin Cup Challenge has helped us grow and outfit our team (currently 32 operational volunteers and 8 board members), upgrade and regularly maintain our rescue gear and equipment, host complex training (like high angle rescue and swift water rescue), and provide community outreach programs.
Recreational activity in the Teton Valley has grown significantly in recent years. With more recreation comes more potential for emergencies and rescues, primarily due to accidents, off-season conditions, and inclement weather. TCISAR calls for assistance in 2021 were 173% of the previous 4-year average and volunteers donated over 4,100 hours for training, missions, and community events. Operations members are on call 24/7 and are deployed at the request of the Teton County Sheriff's office. They must be ready to be called out at a moment's notice. It is not uncommon for a TCISAR member to donate over 100 hours annually to TCISAR training, community events, and missions.
Our volunteers come from all walks of life and with broad ranges of experience, but the common thread is a passion for our beautiful Idaho wilderness and ensuring the safety of those who recreate in our region. The need for our team to be available, prepared, and well-outfitted couldn't be greater than now.
We are grateful for the support of the Community Foundation, Community and Business Challengers, and the broader Teton Valley community. Together we can continue to enjoy the great outdoors safely and responsibly.