Teton County Idaho 4-H: $2,000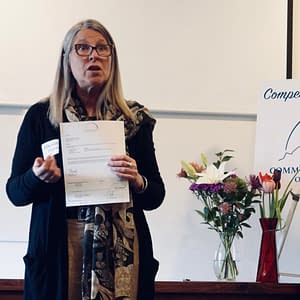 The Community Foundation of Teton Valley is honored to award a $2,000 grant to Teton County Idaho 4-H in support of purchasing an additional 19 livestock gates and panels to accommodate the growth Teton County 4-H is experiencing in its programs, as well as allow for a safe and educational experience at 4-H and partner events at the Teton County Fairgrounds. The Foundation strongly supports Teton County Idaho 4-H's commitment to meet the educational needs of its participants and safely execute 4-H club meetings, the county fair, and meet the demand of increased enrollment. 
Teton Valley 4-H participants come from diverse demographics and backgrounds within the community, with increasing participation from Latinx and low-income participants. This year alone, 4-H enrollment has grown by 24%. Participation from Latinx and other underserved youth increased by 40%. Supporting this project impacts over 200 youth in over 400 4-H projects and 50 adult volunteer leaders since all clubs rely on the organization's limited financial resources. Livestock panels are a significant expense. Animal husbandry projects (beef, sheep, swine, goat, and poultry) have increased by 39%. They are among the most popular public events and an important STEM (science, technology, engineering, and math) educational opportunity at the fair. These clubs help to draw in community support and excitement about 4-H in general due to the charisma of the animals and hardworking youth. Further, new animal clubs were added last year, such as the Llama Packing Club and Goat Packing Club, to add to the popular Horseless Horse Club. These clubs give youth unable to raise an animal an opportunity to learn, study, and work with animals, opening opportunities that were not previously available.
Teton 4-H is also a bridge-builder for community members and other organizations in Teton Valley. 4-H is unique in the wide range of interests that it serves. Families appreciate that youth expand their interests once they become involved in 4-H. Teton 4-H youth are branching out from non-animal clubs and increasingly participating in 4-H livestock clubs.
To continue to reach the 4-H audience better and meet demand, the Community Foundation grant will assist Teton 4-H in purchasing 19 additional livestock pens for club meetings, clinics, demonstrations, and the Teton Valley Fair. This will also help ensure a safe environment for the hundreds of community members visiting the Teton Valley Fair, held annually the first week of August. The grant will support 4-H's efforts to expand educational programming and safely execute the Teton Valley Fair, which is the culmination of the hard work of 4-H participants. The additional pens will increase the number of cells from 33 to 52 and expand the program's capacity for animal projects from 57 in 2022 to 93 in 2023.
The Community Foundation commends the important work of Teton County 4-H as it continues to grow and provide positive opportunities for youth and community volunteers.