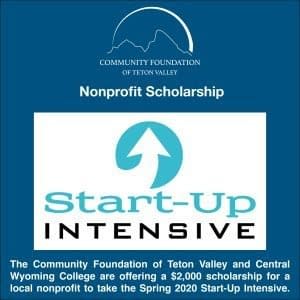 The Community Foundation of Teton Valley and Central Wyoming College are teaming up to offer a $2,000 scholarship for a local nonprofit to take the Spring 2019 Start-Up Intensive.

The Community Foundation of Teton Valley and Central Wyoming College are offering one $2,000 scholarship for a local nonprofit to take the Spring 2020 Start-Up Intensive. The Start-UpIntensive is an in-depth entrepreneurial training program designed to provide participants with proven tools, frameworks, and skills that winning companies utilize to launch successful business ideas.

Developing and maintaining clarity around mission, priorities, fundraising, multiple stakeholders and budget can be a significant challenge for nonprofits, especially those with a small staff. Through the SUI program, Executive Directors will learn to think about their mission from a business perspective and put strong foundational building blocks in place while they build their leadership and organizational skills and wisdom to make even greater lasting positive impact.

The Community Foundation and Central Wyoming College support this deep learning and strong community impact with this scholarship.

The course runs from April 7th through June 11th, 2020. Twelve to fourteen participants will dedicate three full days per week to class time, in addition to working through their ideas after class hours. All exercises are focused directly on the underlying business/nonprofit. The class ends with participants presenting their businesses to a panel of experienced advisors. Once the class time program concludes, participants have 10 hours of follow-up consulting time with a panel of experts to use as they move forward.

Sandy Schultz Hessler, who teaches the program, brings a wealth of business and teaching experience to the front of the classroom. She has taught at Harvard, Tufts University and U. Miami Ohio and have been a successful entrepreneur, nonprofit and marketing professional.

Enrollment is limited. Workforce Training Grants and additional financial assistance may be available to those who qualify. Go towww.siliconcouloir.com/startupfor more details and to apply. Applications are due February 15th, but will be considered on a rolling basis until the course is filled. Call Liza Millet for additional information at 917-864-9395 or email startup@siliconcouloir.com.

About Silicon Couloir
Silicon Couloir is an all-volunteer effort to nurture entrepreneurship in Jackson, WY and the greater area of the Tetons. To learn more about Silicon Couloir, visit www.siliconcouloir.com or follow the organization's updates at www.facebook/siliconcouloir.

About Central Wyoming College
Central Wyoming College is one of seven Wyoming community colleges with the main campus located in Riverton, WY and a branch campus located in Jackson, WY. The Start-Up Institute is a program offering from the college division of Workforce and Community Education. For more information please visit https://www.cwc.edu/startup/.
About the Community Foundation of Teton Valley
The mission of the Community Foundation of Teton Valley is to elevate lives through the power of generosity. We seek to achieve our mission by empowering donors, championing local nonprofits, promoting a culture of giving, and serving as a catalyst in addressing critical community needs. The Community Foundation hosts the Tin Cup Challenge, an annual fundraiser that in just 12 years has raised $14.2 million for Teton Valley nonprofits.