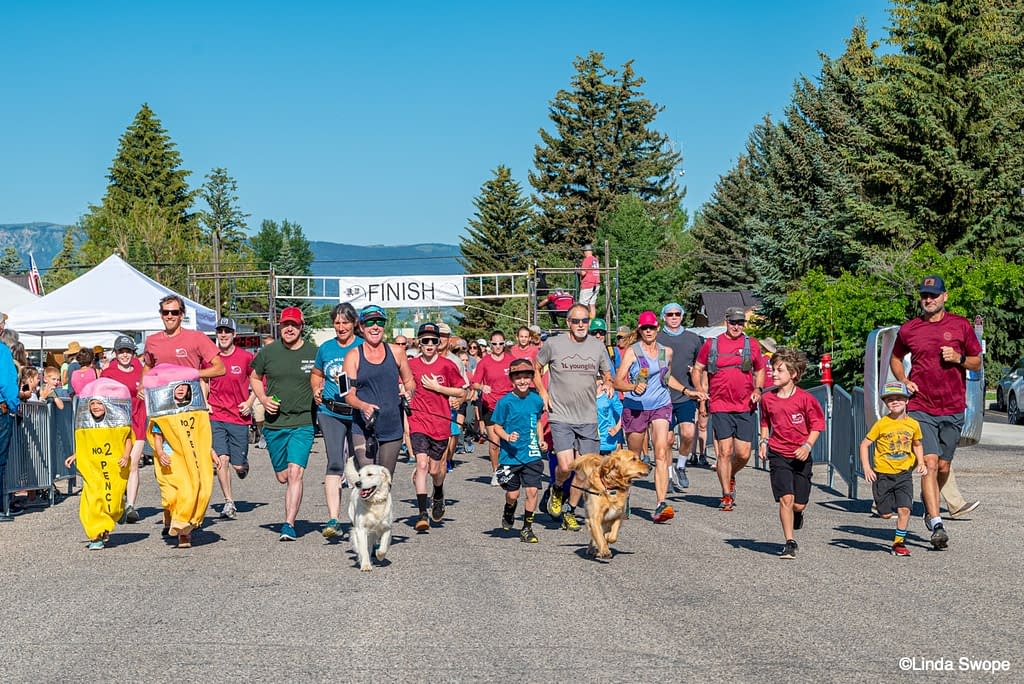 The Community Foundation of Teton Valley is thrilled to invite you to the 16th Annual Tin Cup Challenge Event Day Saturday, July 15th, at the picturesque Driggs City Park. Prepare yourself for a day filled with joy and camaraderie as we come together to honor our hard-working nonprofits and the incredible generosity of our community.
Jumpstart the day by participating in the exhilarating runs dedicated to supporting local nonprofits. Competitive 5K and 10K runners will kick off the action at 9:00 AM, followed by Fun Run/Walkers at 9:03 AM on Ashely Street. Registering in advance? Great news! Fun Run/Walkers can sign up for free. However, if you decide to join us on Event Day, there will be a nominal fee of $10. Please note that only competitive entrants will be timed and that registration fees increase at 5 PM on Friday, July 14, 2023. Register online, at the Community Foundation booth at the Driggs Farmers Market on Friday from 9 AM to 1 PM, or between 7:30 AM – 8:30 AM at the Race Registration tent on Event Day. All participants receive a complimentary commemorative T-shirt – while supplies last.
But that's not all! Prepare to immerse yourself in an array of exciting activities and entertainment. After the run, treat yourself to a well-deserved FREE breakfast and a quick yoga cool-down before exploring the captivating passions of over 50 nonprofit booths until noon. Discover more about their impactful work while enjoying various festivities, including the thrilling Diaper Derby, captivating folkloric dancing, exhilarating soap hockey, and the chance to experience flight and ski simulators. If that isn't enough, we also have a special treat for animal lovers. Come and meet a delightful menagerie of horses, mules, llamas, goats, pigs, kittens, and puppies – ready to bring joy to your day with their presence.
In the spirit of the Tin Cup Challenge, we invite you to show your support and enthusiasm by dressing for success alongside your favorite nonprofit. By doing so, your organization will have a chance to win the prestigious Tin Cup Spirit Award, with a grand prize of $200 for first place, $100 for second place, and $75 for third place. Stay tuned as the event stage comes alive at 10:30 AM to announce the Dawn Banks Award, Spirit Awards, and Race Awards recipients. 
Join us, the Community Foundation of Teton Valley, in acknowledging the profound impact of local nonprofits by participating in the 16th Annual Tin Cup Challenge on Saturday, July 15. Remember that together, as a community, we can make a difference. If you wish to go the extra mile, consider donating cash, check, stocks, or online at www.TinCupChallenge.com during the Giving Period. Generous Business & Community Challengers partially match donations received before Friday, July 21, at 5 PM.
For more information, we encourage you to visit the Community Foundation's website, call us at 208.354.0230, email via info@cftetonvalley.org, visit our booth at the Farmers Market, or stop by our office. We can't wait to see you there!