Let's count the ways your support of Seniors West of the Tetons during the Tin Cup Challenge makes Teton Valley great! Your contributions enable SWOT to assist seniors by: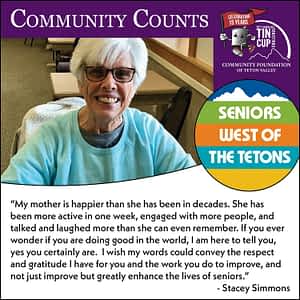 Filling tummies.
Prompting movement.
Focusing minds.
Advice for smartphones and computers.
Exploring nature.
Screening for health issues.
Support in their homes.
Combating loneliness.
Tapping their creativity.
Getting outside.
Exposure to live entertainment.
Touring local businesses.
Trying new activities.
Holding movie and pizza nights.
Tuning bicycles.
Visiting local attractions.
Supplying medical equipment.
A variety of social activities.
Having fun!
HOW DO WE KNOW? Because SWOT:
1. Delivers as many as 400 healthy meals to home-bound seniors each month.
2. Provides access to a range of exercise programs for strength, balance, coordination, flexibility and fun movement to almost 75 seniors a week.
3. Holds health clinics for flu vaccinations, monthly foot-care, blood pressure checks, glucose testing, hearing screening, health education sessions and more.
4. Offers delicious meals three days a week at the Center, including special event meals for social gatherings and community holiday celebrations.
5. Organizes outdoor activities including bird watching, snow shoeing, neighborhood walks, hikes, goat snuggling, bicycling and more.
6. Takes seniors on field trips to places such as the Grand Teton Music Festival, BYU-Idaho Planetarium, a Jenny Lake boat ride, New West KnifeWorks tour and more.
7. Provides fun games and activities to bring seniors together to combat isolation and loneliness including bridge, mah-jongg, bingo, coffee klatsch and pizza and movie nights.
8. Assist seniors with technology, medical equipment, and bicycle tune-ups.
9. Launched a respite care and homemaker program to help seniors and their caretakers.
10. Helps seniors receive services by working with other nonprofits and advocating for seniors' best interest and dignified treatment at the local, state and federal level.
#CommunityCounts