Seniors West of the Tetons: $7,000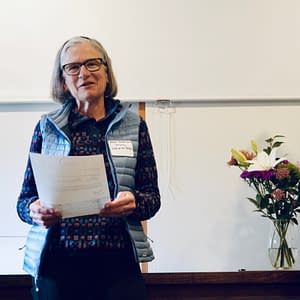 The Community Foundation of Teton Valley is honored to award this $7,000 grant to Seniors West of the Tetons (SWOT) to support a new 14-person van for its programs. The Foundation strongly supports the purchase of a new van to improve the safety and reliability of SWOT's transportation needs and the expansion of its senior enrichment programs.   This grant is also leveraged in partnership with the Teton Springs Foundation and private donors.
Seniors West of the Tetons has used its 2002 Ford E45 bus to transport older adults in Teton Valley since 2010. The bus primarily takes clients on field trips in and around Teton Valley. However, numerous factors make its continued use untenable: the air conditioning does not work – making trips on warm days uncomfortable; the wheelchair lift continues to leak hydraulic fluid despite best efforts to repair it; the engine has the propensity to overheat in the summer making it difficult to travel over mountain passes and out of the valley; and, although not required, it lacks seat belts which is a safety issue that the organization wants to improve upon. Moreover, after many expensive fixes, more repairs in the queue, and difficulty finding qualified mechanics and unique parts this year, SWOT concluded that it was time to replace the vehicle. In essence, the SWOT bus cannot be relied upon to make comfortable and safe longer program trips, and maintaining the vehicle is no longer economically feasible.
SWOT seeks to replace the bus with a smaller, easier-to-maintain, 14-passenger van. A smaller vehicle would be easier for its staff and volunteers to operate and to have serviced in the Teton Valley. The organization envisions using the new van for field trips and outings in the valley and regionally, with trips to Idaho Falls, Lava Hot Springs, and Salt Lake City.
Additionally, purchasing a new vehicle for the Senior Center would be an investment in the valley's older adults and long-term community health. Studies have shown that the more involved older adults are in their community, the better their overall health. Isolation and loneliness, which are persistent problems in the senior community, lead to a 50 percent increase in dementia and premature death. Moreover, as they age, many SWOT clients feel less confident driving at night, on freeways, or in inclement weather. Creating opportunities for its clients to continue engaging in year-round enrichment activities around the valley and beyond helps combat both isolation and loneliness and help seniors maintain autonomy while they age in place. The new van will assist seniors in assembling while also going on adventures in and beyond the community.
Transportation for community seniors has been, and continues to be, a significant problem in Teton Valley. Since TRPTA discontinued services in 2019, many seniors have lacked reliable transportation to meet their basic needs. Private transportation through taxi services is both limited and expensive. While a new van will not solve the transportation challenge for seniors, it will partially address the issue and improve SWOT's current outreach efforts. In the future, SWOT would like to assist seniors in general transportation, acting as a stopgap until a more formal community transportation service is established. Services would include getting to doctor's appointments, the grocery store, and lunch or special events at the Senior Center. SWOT's goal is to assist in the creation of a volunteer-run transportation program that would use its van as needed. Opportunity outpaces capacity; thus, this will be more of a long-term organizational goal.
The Community Foundation grant will support, in part, the purchase of a new or used 14-passenger van to transport Teton Valley's older adults. SWOT seeks to purchase a 2024 model Ford Transit van. Buying a new van to meet its programmatic needs would cost roughly $58,000. If the organization can fully fundraise this amount, purchasing a new vehicle would be its preference. If SWOT cannot raise the total amount, it will consider purchasing a used van that is low-mileage and in very good condition. SWOT is not opposed to a used vehicle; however, it understands that they are difficult to find due to ongoing manufacturing problems associated with the pandemic. It has been recommended that purchasing new may be the most cost-effective and efficient use of its efforts.
After a van is purchased, SWOT will sketch out a year's worth of field trips, including 2-3 that are further away. It will also connect with volunteers interested in helping SWOT create a valley transportation program. SWOT anticipates being able to get a small program off the ground rather quickly. The program's impact will be measured by the number of calls to which SWOT can respond. Strong efforts will be made to ensure that SWOT will have a role in all in-valley transportation for the senior community.
The Community Foundation commends the important work of Seniors West of the Tetons to purchase a new program van and, in turn, build upon its existing senior enrichment program, including field trips, which helps to combat isolation and loneliness and also aid in its long-term goal of establishing a Teton Valley senior transportation program.