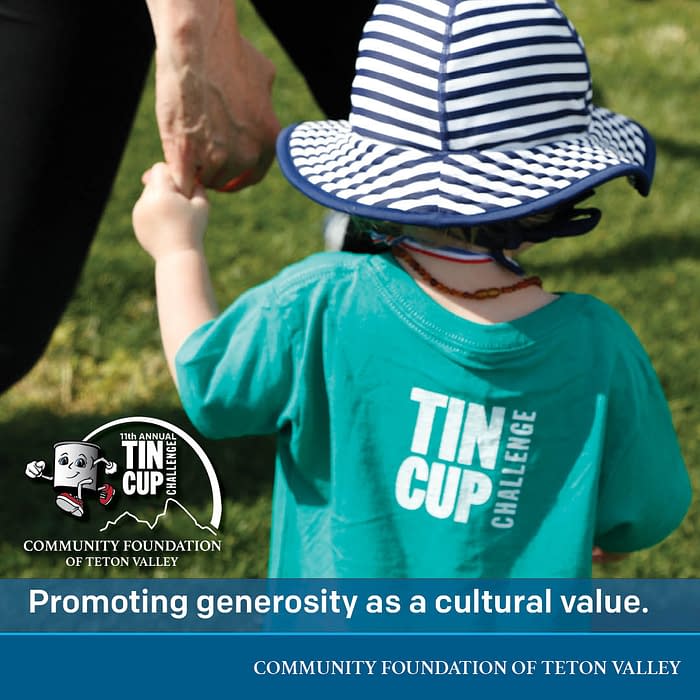 The mission of the Community Foundation of Teton Valley is to elevate lives through the power of generosity. As its cornerstone initiative, the Tin Cup Challenge Grant Program is a prime example of the Foundation's work to promote generosity as a cultural value. The Tin Cup Challenge is both an 8-week philanthropic giving period and one-day community celebration of charitable giving in Teton Valley.  This innovative program is designed to benefit Teton Valley through the power of generosity – including donors, local nonprofits, and residents alike. The Foundation provides this program to the community free of charge, thanks to generous support from donors.
During the annual 8-week Tin Cup Giving Period, the Community Foundation collaborates with several partners to raise awareness and funding for qualifying local nonprofit organizations. Through these efforts, the Foundation has been able to extend the broad impact of this program by reaching more and more donors every year – growing generosity exponentially. In fact, during the first decade of this program, the number of donors participating in charitable giving through the Tin Cup Challenge has increased by a remarkable 61%.
The spirit of generosity and volunteerism run deep in this valley. The cyclical nature of the Tin Cup Challenge has helped bring awareness, celebration, and funding for the missions of Teton Valley's nonprofits and the community they serve. The generous spirit of the Tin Cup Challenge is on display during Event Day, taking place Saturday, July 21 from 9am to noon at the Driggs City Park. The Community Foundation enjoys bringing together our local nonprofits, donors, volunteers, and community members each year to emphasize the extraordinary neighborly care emulated throughout Teton Valley. By celebrating annually, we're consistently bringing charitable giving to mind, instilling philanthropy in the community, and promoting generosity as a cultural value.
We ask you to consider a designated gift to the Community Foundation of Teton Valley during this year's 11th Annual Tin Cup Challenge. With your gift, you will help us continue to provide the Tin Cup Challenge to our community free of charge. Please see the link below to make a gift online, drop by the Community Foundation office in person, or mail a check to P.O. Box 1523, Driggs, ID 83422
                    
 Thank you for your support!