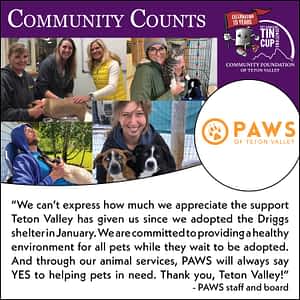 We believe that with your support, the success of PAWS of Teton Valley will contribute to the success of all the animal welfare organizations in our region. We are thrilled to have the opportunity to expand our reach and ensure the sustainability of animal services in Teton Valley and beyond. The PAWS of TV staff will continue to deliver the best possible care for shelter pets. We never want to leave the residents of Teton Valley with no resources for lost or found pets or a safe place to relinquish pets they could no longer care for. We are dedicated to ensuring the shelter has the resources it needs to provide for the safety, health, and well-being of all our local pets.
 
Our commitment in 2022 and beyond is to the animals – ensuring every local pet receives vital care and is provided a safe and healthy environment while waiting to be adopted. With your help, PAWS will also continue to provide social services (spay/neuter, help with vet bills) to Teton Valley pet owners and pets in need. We are a nonprofit funded by private donations and grants. Your support is a crucial part of our success.

PAWS will always say YES to helping pets in need. Thank you for supporting the lifesaving work we do.