PAWS of Jackson Hole: $4,000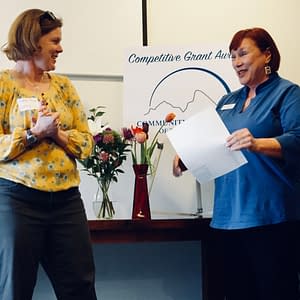 The Community Foundation of Teton Valley was honored to award a $4,000 grant to PAWS of Jackson Hole as shelter operations funding for its PAWS of Teton Valley facility.  The Community Foundation supports PAWS of Jackson Hole's efforts to establish a locally based community animal shelter in Teton Valley.  
In 2022, PAWS completed its first year operating the only open-admission animal shelter in Teton Valley, providing a safe place for lost and relinquished pets and public health benefits to the community. During that time, PAWS provided a safe, healthy environment for lost pets while they waited to be reunited with their owners and was an invaluable resource for people in crisis who are forced to give up a beloved pet. A shelter also gives stray dogs and cats a second chance at a happy life. Additionally, PAWS offers crucial public health benefits to residents by providing space for dangerous, at-large animals, pets being held for rabies quarantine, and pets taken from their owners due to a court seizure or imprisonment. In 2023, these essential services and facilities repair and staffing to service the shelter have increased the need for additional funding to maintain shelter operations.  
PAWS of Teton Valley is looking forward to creating long-term sustainability in Teton Valley and estimates that it will need two to three years to stabilize its budget. This grant will help fund its operations to serve the pets and people of Teton Valley and gain financial sustainability through fundraising and additional grant funding.
The Community Foundation commends the critical work of PAWS of Jackson Hole as it employs proven methods to achieve long-term sustainability for Teton Valley.