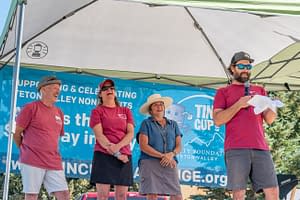 The Community Foundation of Teton Valley is pleased to announce that Greg Meyers, Executive Director of Teton Arts, is the 2022 recipient of the Dawn Banks Nonprofit Leadership Award. Dawn Banks was an incredibly passionate advocate for the nonprofit community and worked tirelessly to support their efforts to elevate life in Teton Valley and fulfill their missions. Now in its sixth year, this award recognizes a local nonprofit leader who exemplifies excellence in nonprofit best practices. This award is accompanied by a $1,000 grant from the Community Foundation of Teton Valley.
Beginning as Program Manager without the leadership of an Executive Director, Greg started his Teton Arts tenure teaching classes and firing kilns. After two years in this capacity, it became apparent that Teton Arts was ready to establish a full-time Executive Director. A natural fit, Greg took the elevated position to heart and began attending workshops at the Community Foundation to ensure Teton Arts was participating in best practices. Through continued efforts, he rebuilt the Board and began to uplevel this long-standing organization.
As Executive Director, since 2017, Greg has devoted thousands of hours to this organization. Greg's passion to "strengthen our community by providing creative experiences that bring people together and create a community gathering space" has been evident throughout his tenure. He consistently collaborates with fellow nonprofits like Seniors West of the Tetons, Above and Beyond the Classroom, and PAWS of Teton Valley to name a few – growing the arts and access to the arts throughout various sectors of our community.
After grounding and growing Teton Arts over the last few years, Greg went above and beyond to secure a grant from the National Endowment for the Arts for $100,000 earlier this year. This award will ensure stability for Teton Arts and their commitment to provide "art for all" in Teton Valley. Greg's leadership has been an example of passion and perseverance for other nonprofit leaders.
The Community Foundation of Teton Valley applauds Greg's passion, commitment, and collaboration. His dedication has grown Teton Arts into a truly community-spirited organization that helps people and creates art for all.