If giving is indeed the way that we build a truly meaningful life then the Community Foundation of Teton Valley's Grant Program and its recipients are creating a pretty exceptional life right here in Teton Valley for all of us.  "The grant program offered by the Community Foundation of Teton Valley is an opportunity for us to help support the programs and projects of local nonprofits that serve the greater good of our community, and it wouldn't be possible without the generosity of our Tin Cup Challengers," says Carrie Mowrey, Executive Director of the Community Foundation of Teton Valley.
Serving as a resource for both nonprofits and donors, the Community Foundation seeks to improve lives through the power of generosity, and one of the facets by which this is done is the Grants Program. Since 2008, the Foundation has awarded over $180,000.00, with $29,826.00 awarded just this year. Made possible through the Tin Cup Challenger Fund as well as private donations, this Grant Program is just another way that the Community Foundation of Teton Valley seeks to support our local nonprofit community and the Teton Valley population at large.
"We awarded $5,851.00 during the 2nd quarter grant cycle to four local nonprofits deserving of the funds and ready to put them to good use in our community" says Mowrey. Grants awarded during the 2nd Quarter include $1,000.00 to Connections Family Resource Center, $1,500.00 to Mountain Bike the Tetons, $2,351.00 for the Teton Valley Foundation and $1,000.00 to Valley Advocates for Responsible Development.
Connections Family Resource Center, a nonprofit organization that seeks to provide a family-friendly place where the community can gather for education, information and resources on children, parenting and family will use the $1,000 awarded in the purchase of start-up equipment and supplies for both a Drama and Science Club. Children participating in the Drama Club will work together to produce a theatrical production for the public while Science Club members will engage in scientific discovery and exploration, culminating in a Science Fair where the children will be allowed the chance to share their findings with the Teton Valley community.  Says Executive Director, Bonnie Moses, "Both programs require collaborative work among children, problem-solving skills, investment in the entertainment and learning of the community, and provide a safe and educational place for young children while parents are working."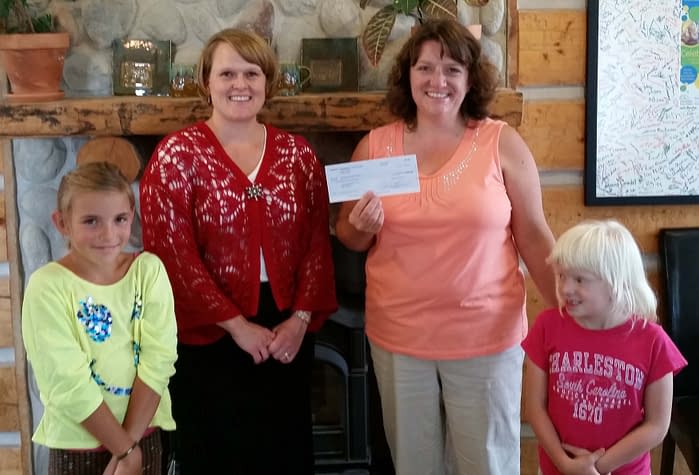 [dt_gap height="15″ /]
Mountain Bike the Tetons (MBT) will use the $1,500.00 that they have been awarded to purchase six specialized trail building and maintenance "Trail Boss" tools for their MBT Trail Ambassador Program. "The MBT Trail Ambassador program's goal is to preserve and enhance Teton Valley's existing trail network by engaging more local volunteers to perform critical and routine trail maintenance," according to Lin Heffner, MBT Executive Director.  These tools will help the nonprofit in outfitting two work groups for trail maintenance and, based on the current list of extensive required trail maintenance discussed between MBT and the United States Forest Service (USFS), they are confident that they will now be able to become more involved in the maintenance of local trails through their Trail Ambassador Program, allowing the USFS to focus their efforts on areas of the trail system that require a higher level of skill and effort. Says Heffner, "Currently, the valley's USFS trail crew is underfunded and cannot perform all the low-skill maintenance that is crucial to sustaining Teton Valley's trail network over the long term.  When properly equipped, the Trail Ambassador Program will make routine trail maintenance more appealing and easier to accomplish, particularly in remote areas far from trailheads."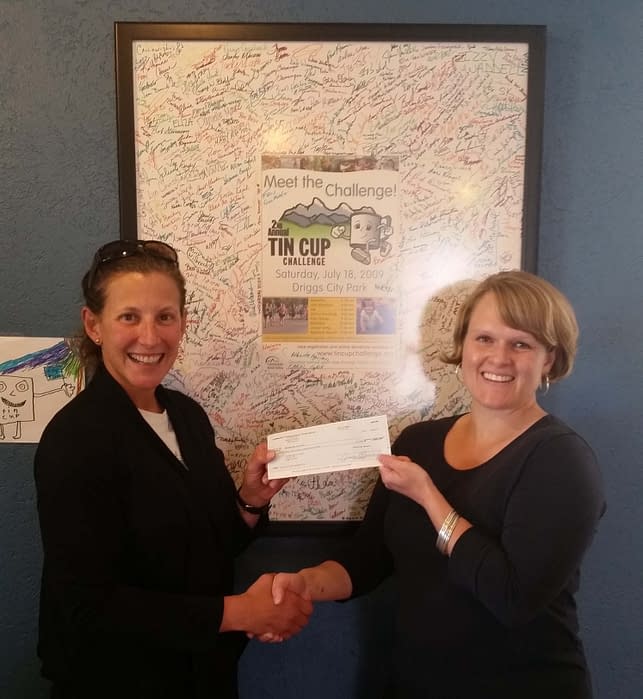 [dt_gap height="15″ /]
"The Teton Valley Foundation (TVF) has existed since 2006 but we have never owned a computer!  Through a technology grant from you, we plan to purchase this fundamental resource along with a Point of Sale system for the Kotler Ice Arena" said Erica Linnell, TVF Executive Director. With a 2nd quarter grant award of $2,351.00 the Teton Valley Foundation is set to join the 21st Century through the purchase of a computer and Point of Sale system that will enable TVF staff more time to develop innovative cultural and recreational opportunities for the Teton Valley Community while spending less time on historical research and data retrieval.  "When there is a decrease in record-based knowledge, program implementation and management take twice as long because each element has to be recreated," said Linnell.  Additionally, it is the hope of the organization that the Point of Sale system at the Kotler Ice Arena will help to provide TVF with a better way to track use numbers for the facility, information that will likely prove useful in applying for larger grants in the future as they look toward the expansion of the arena. According to Linnell, "Right now there is virtually no space for kids and adults to privately change out of their skivvies!  We are already halfway to the $50,000 we need for this effort. Accurate information about how and when our members use the rink is critical in the grant request process as we attempt to raise the remainder."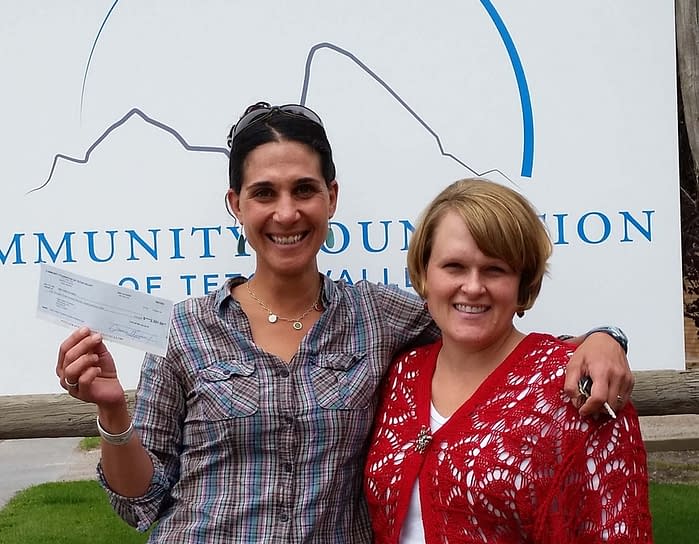 [dt_gap height="15″ /]
Building upon the success of their 2013 Sustainable Homes Tour, Valley Advocates for Responsible Development (VARD) has been awarded $1,000.00 for the inaugural Teton Valley Farm & Ranch Tour that will take place this fall. "…last Fall VARD conducted our first public tour of homes and properties through the valley that utilize 'green' building design.  The sold-out tour was a resounding success.  Spurred from feedback from participants, we requested funds to host a tour of Teton Valley farms," according to Jen Werlin, Communications and Outreach Manager. VARD envisions a tour whereby participants will be provided a hands-on learning opportunity on local farms and ranches operating today in the Teton Valley.  Werlin said, "VARD hopes that our education and outreach efforts help educate community members about the challenges and opportunities agriculture producers face in our area so that we can plan together as a community to preserve this shared and important community value and way of life."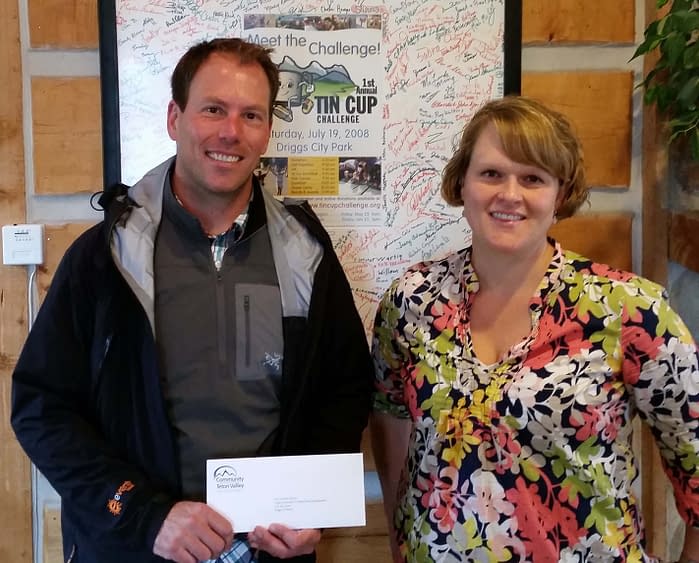 [dt_gap height="15″ /]
Together, these four vastly different but equally important organizations look to serve our community and do their part to make the Teton Valley the wonderful place that we all know, love, live in and enjoy.  To borrow a phrase from Winston Churchill, "We make a living by what we get. We make a life by what we give" and these nonprofits are truly helping to make a life, a better and more meaningful life, for each of us living in the shadow of the Tetons.
The Community Foundation of Teton Valley accepts funds requests from eligible organizations for up to $2,500 on an on-going year-round basis as funds allow.  For quarterly deadlines and more information on eligible organizations and projects, please CLICK HERE.  Those interested in learning more about becoming a Tin Cup Challenger for 2015 are invited to call our office at 208-354-0230 or email Carrie Mowrey, Executive Director HERE