Mountain Bike the Tetons – $1,000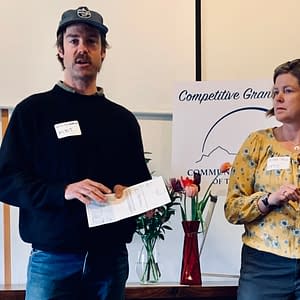 The Community Foundation of Teton Valley was honored to award a partial grant of $1,000 to Mountain Bike the Tetons (MBT) to support its executive director and board members' professional development. The Foundation supports these efforts to advance further MBT's ability to function at a high level of efficiency and effectiveness from within the organization. 
Like many local nonprofits, MBT is a small organization with a significant impact on the community. After recently hiring a new executive director and appointing a new board chair, MBT is moving forward with renewed energy and dedication. Because MBT employs only one full-time, year-round staff member (executive director), it relies on significant board engagement for successful programs and projects to meet its mission. To maximize MBT's impact, the executive director and board seek further professional development to encourage staff retention and strengthen the culture and function of the organization that profoundly impacts the community.
As MBT continues to grow, it aims to create a more effective executive director and board relationship to support appropriate growth and development. There are several excellent opportunities for professional development that MBT plans to pursue in the coming year. Two options to increase its organizational function and impact on the local community include a.) One-on-one coaching for the executive director and facilitated board training through INCITE! Consulting and b.) workshops with the Idaho Nonprofit Center.
The Community Foundation grant will support, in part, professional development opportunities that will foster MBT's goals to develop an efficient board and staff relationship, create a standard of expectations, and define the duties of each role to become more effective as a team. These goals can be achieved through further professional development, continued education, and nurturing a positive board culture. More specifically, the goals are supported by prioritizing the capacity for the executive director to attend four executive training sessions that will cover operations, marketing, fundraising, and strategic planning. MBT has hired Kari Anderson of INCITE! to facilitate each training session. MBT will also organize a board retreat with Kari Anderson to facilitate further team building and strategic planning. Finally, the executive director and board chair will attend a 'Board Boot Camp' provided through the Idaho Nonprofit Center on April 19, 2023.
We owe it to the community to function at a high level of efficiency and effectiveness from within. With recent staff turnover, MBT seeks funding for Professional Development of our new executive director and board.
MBT's mission is to build a vibrant, healthy community by enhancing recreational and economic opportunities in the Teton Region through the development of our outstanding mountain biking resources. The Community Foundation commends the important work of Mountain Bike the Tetons to customize professional development opportunities that will allow it to achieve its mission and develop further strategic planning goals for the organization, resulting in more impactful programming and resources for the community.