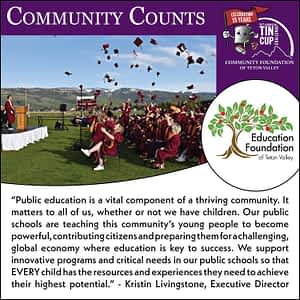 A little boy walked into Teton Middle School. He had dreams of playing the violin. His family loved music and had always wanted him to learn to play an instrument. He was so proud to be heading to middle school where his dream would finally come true.
But there were no string instruments in our school district.
He was heartbroken. His music teacher, one of those kind-hearted, dedicated teachers that we have so many of in our school district, was heartbroken as well. She wanted to provide a child who was so passionate about music with the tools and resources he needed to keep that passion alive. She reached out to the Education Foundation for help.
Because of your support, we were able to purchase a single violin. And that teacher and her colleagues turned that violin into an orchestra. The first strings program was created seven years ago with thirty students. Those students threw their hats into the air and graduated last spring. Those students will be lifelong musicians and will fill their homes and community with music for generations.
This year, 163 students were enrolled in the Teton Strings program- our local orchestra. 163 students have access to violins, violas, cellos, and string bases, because of you. Because of your belief and continuing support, we have increased resources and opportunities that enrich a child's school experience.
When our community and our schools share a vision for the future of public education, we turn a single violin into an orchestra. We elevate public education in our valley.
The Tin Cup Challenge is the moment when the entire community can come together to help every student in our public school achieve their highest potential. Every donation matters this giving season, no matter the size. The Education Foundation receives 100% of gifts designated to us AND a partial matching grant from the Community Foundation because of your generosity.
Thank you for helping us elevate public education in our valley.