After a hard year for everyone, it's good to feel the warmth and lightness of summer. For nonprofits that spent the pandemic reimagining programming, funding alternatives, and budgets, June 1st marked not only the beginning of a new season but also the beginning of something we can all count on – the Tin Cup Challenge. The Tin Cup Challenge provides a singular opportunity to give to numerous nonprofits with one simple transaction or to support the entire local nonprofit community with a Challenger donation. Through this model, the Community Foundation of Teton Valley has helped focus and develop giving in the community during our concentrated 8-week Giving Period.
This consistent fundraiser has helped streamline giving for 48 nonprofits, alleviating the financial need for each organization to host multiple fundraisers per year. The Community Foundation's broad-range marketing strategy capitalizes on collaboration with local nonprofits in order to bring light to the nonprofit landscape that truly makes Teton Valley shine.
Keep the light bright and Tinny polished with a direct donation to the Community Foundation of Teton Valley during this year's Tin Cup Challenge.
2021 Tin Cup Challenge Program
Tinny works year-round to ensure the Tin Cup Challenge is widely marketed and efficiently executed on behalf of Teton Valley's nonprofits and the communities they serve. While much of Tinny's work is behind the scenes, here are some places you can see Tinny in action annually: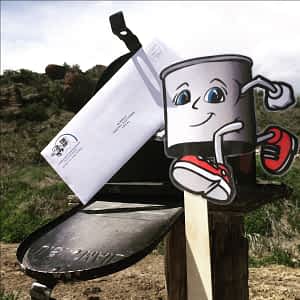 Brochures —
Tinny loves jumping out of local mailboxes on June 1st! This year brochures and return envelopes went to 6,799 households. Additionally, phenomenal volunteers distributed them to over 90 businesses across Teton Valley, ensuring they're easy to find for both residents and visitors alike.


Tin Cup T-Shirts —
After a one-year hiatus, Tinny brought back the beloved Tin Cup T-shirts! Circulating in a beautiful sky blue this year, Tin Cup T-shirts help spread the message of generosityand nonprofit support during the Giving Period and throughout the year. They are distributed weeklyat the Farmers Market by Foundation Board & staff members, at the Foundation office, and on Event Day.
Nonprofit Advertising —
In an effort to engage the community and provide more recognition for our hardworking nonprofits, the Community Foundation took out 5.5 full-page ads in the Teton Valley News to highlight each one with a personal photo and quote. Tinny then shared the ads across social media and with each nonprofit for their own advertising.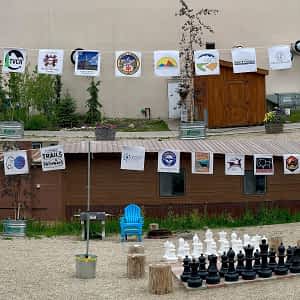 Nonprofit Garland —
The Nonprofit Garland in Mugler Plaza represents all 48 participating nonprofits. Tinny's display provides a visual reference of the unique work each nonprofit puts towards the well-being of Teton Valley and its community members. When you see this garland, keep in mind the teamwork, collaboration, volunteerism, and support that lies behind each organization's banner.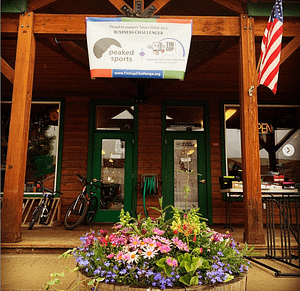 Banners —
Event Day banners and Business Challenger Banners help spread the word and remind the community that the Tin Cup Challenge is on! Business Challengers step up to the plate, annually, to ensure the stability of our nonprofit community and the necessary services they provide. Tinny hopes you'll recognize their generosity by utilizing their services whenever possible.
Tin Cup Photo Challenge —
Tinny's call to capture nonprofit impact in our community garnered 93 photo submissions for our photo contest – representing every sector of the community. Vote today for your favorites! Winners will be awarded $100 Nonprofit Bucksand will be announced on Event Day.
Tin Cup Event Day —
Tinny is excited to return to atraditional Event Day from 9 AM-noon in Driggs City Park this Saturday. Register to run for nonprofits in the Competitive 5K, 10K, or Fun Run/Walk. Enjoy free snacks and beverages while perusing 43 nonprofit booths with information and family-friendly activities. Highlights will be streamed live on our social media channels.
__________________________________________________________
Tin Cup Donations —
The Community Foundation provides a partial Matching Grant to the first $25K that each organization raises during the Giving Period. Seeing the smiles on our nonprofit leaders as they receive their Tin Cup check awards is incredibly fulfilling. Tinny knows that all the hard work that goes into this 8-week Giving Period and cumulative day of celebration are worth it.
__________________________________________________________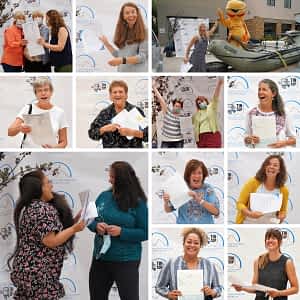 Tin Cup Grant Awards —
The genuine smiles of gratitude nonprofit leaders bring to pick up their Tin Cup Grant Awards fulfills Tinny deeply. With the Community Foundation's partial Matching Grant for the first $25K that each nonprofit brings in during the Giving Period, nonprofits and supporters alike revel in the hard work and generosity of our generous community!
Tinny loves visiting local nonprofits to see their work in action. Keep your eyes peeled on social media! Follow #flattinny to ensure you see them all.
Consider supporting the work that goes into this successful program with a direct donation to the Community Foundation!
We're excited to bring the Tin Cup Challenge Program to our community. At the Community Foundation, we understand that this annual event has become a keystone for nonprofit fundraising locally. This year, nonprofits in our community are counting on community members for support and hoping we're all up for the challenge!
At the Community Foundation of Teton Valley, we're always up for the challenge. We are a lasting foundation that nonprofits and our community can count on because we understand that community counts.
Please consider re-enforcing this foundation with a designated gift to the Community Foundation of Teton Valley during this year's Tin Cup Challenge – ending Friday, July 23rd at 5 PM: