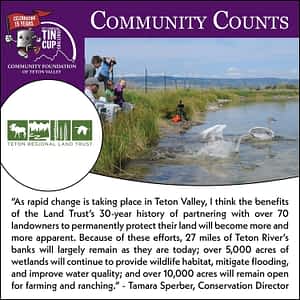 At Teton Regional Land Trust, we work to conserve fish and wildlife habitats, farms and ranches, and scenic open spaces of the Greater Yellowstone Ecosystem, one of the largest, nearly intact temperate-zone ecosystems on Earth. Teton Valley, and other areas of eastern Idaho, are part of the 22 million acres that make up this ecosystem, a sanctuary for the largest concentration of wildlife in the lower 48. It's humbling to think of our community as a part of this vast and interconnected natural system that supports the health and resilience of so many species, including ourselves. Our community is a place where moose sightings are commonplace, where graceful Sandhill Cranes dance in barley fields and the jewel-like scales of cutthroat trout flash in rivers and streams. Our community is a place where barred tiger salamanders wiggle through gardens, native bees pollinate wildflower blossoms, and bears graze on huckleberries. 
All of these natural wonders, however commonplace today, cannot be taken for granted. Idaho's population growth rate is now the highest of any state in the nation, with corresponding increases in Teton Valley's development that are significantly impacting wildlife, the landscape, and our quality of life. At the Land Trust, we do everything we can to mitigate these threats and challenges, but we cannot do it without you.
We depend on your support to ensure that wildlife corridors, scenic open spaces, and ranch and farmland are protected — forever. Since 1990, the Land Trust has been able to protect nearly 40,000 acres in eastern Idaho with willing landowners, 12,500 acres of which are right here in Teton Valley. In 2021 alone, we completed three new conservation projects in Teton Valley permanently protecting lands that include migration corridors for large mammals, native Yellowstone cutthroat trout spawning areas and tributaries, wetlands, and critical bird habitats. All of this was made possible by community members like you. We hope you will support us with a Tin Cup gift today to help ensure that the spirit of this place, Our Place, continues to thrive.
With gratitude,
Jeske Gräve
Development Director