Senior Center Ventilation Upgrades – Awarded $3,500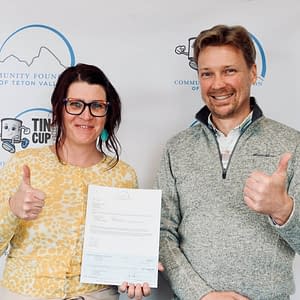 The Community Foundation of Teton Valley was honored to award this grant to Seniors West of Tetons to upgrade the ventilation system in the Senior Center. Proper ventilation is critical to mitigating the risk of aerosol-spread diseases, such as the coronavirus, to an already vulnerable population. The Community Foundation understands the need to get our senior population back to social interactions in a controlled and safe environment and for the Seniors Center to reopen and resume regular services.
The Seniors Community Center in Driggs is used for a variety of senior activities and gatherings – congregate lunches, fitness classes, meetings, senior enrichment programming, and Teton Valley community events such as the Snow Ball. Seniors West of the Tetons closed the Center for these activities on March 16, 2020, in response to the spread of COVID-19. To date, the Center remains closed. The need to re-open cannot be more overstated. Senior citizens, who already suffer from isolation and loneliness, have taken the brunt of the pandemic. Not only are senior citizens most at risk from developing health complications from COVID-19, but they have been forced into further isolation to protect themselves from exposure to the virus. Social isolation has been associated with a 50% increased risk for dementia, 29% increase for risk of heart disease, and 32% increase for risk of stroke, according to the Centers for Disease Control. Senior Center clients are missing gathering with their peers and the community. Consequently, Seniors West of the Tetons wants to reopen the Seniors Community Center as soon as is safely possible.
To do so, the organization has been advised to retrofit its ventilation system. To improve the air quality and ventilation, Seniors West of the Tetons is working with the City of Driggs and its contracted HVAC maintenance firm. The retrofit will include a complete inspection to make sure the system is working properly, installing filters and electronic air sterilizers, an exhaust fan to expel stale stratified air and pull fresh air in from the outside and upgrade air filters to recommended MERV 13 filters. Once the ventilation retrofit is completed, it is anticipated that the Center will reopen as soon as the Area Agency on Aging and Idaho Public Health Department makes its recommendation to do so.
The Community Foundation commends the important work of Seniors West of Tetons and their goal to provide our seniors with a safe environment to return to social interactions. This is a vulnerable population, and we are honored to help Seniors West of Tetons with this critical project.