$5,000 – Teton Valley Mental Health Coalition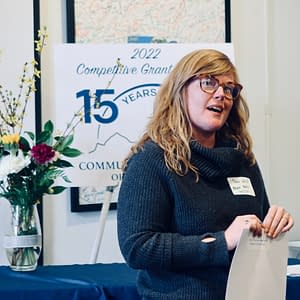 The Community Foundation of Teton Valley was honored to award a $5,000 grant to the Teton Valley Mental Health Coalition in support of its inaugural Community Mental Health & Wellness Program which is designed to strengthen existing mental wellness work; educate community partners, and raise public awareness. The Community Foundation strongly supports Teton Valley Mental Health Coalition's efforts to promote community mental health and wellness.
According to the report 2022 State of Mental Health in America published by Mental Health America, Idaho ranks 50th in the nation in the overall prevalence of mental health conditions and access to care. Almost 25% of adults who need mental health care are unable to receive the services they deserve, a number that has not declined since 2011. This is largely due to limited/no insurance coverage, lack of available treatment options, and insufficient finances to cover costs. These somber facts hold true locally as well. Prior to the Covid pandemic, Teton Valley saw increased reports of anxiety, depression, substance use, and suicidal ideation, as evidenced by more frequent requests for participation in our School-Based Counseling and Crisis Counseling Programs, as well as provider reports. Last year, Teton Valley Mental Health Coalition provided 163 free counseling sessions to the public and almost 400 hours of services to youth at our public schools. Unfortunately, this was not enough. Five people died by suicide in Teton Valley since July of 2021. And local mental health clinicians report being so overwhelmed by need, they have waitlists that range from two to eight weeks long, or they've stopped taking clients altogether. A Teton Valley High School Counselor recently commented, "I have personally taken [to the hospital| or arranged care for on average five students a month this year who have been a harm to themselves. Last year, it was five for the whole school year. And I often can't find anyone who is taking clients." Counselors are not the only folks who are seeing an increased need for mental health services. The Teton Valley Ski Education Foundation, Teton Rock Gym, and Teton Valley Foundation all recently reached out to us reporting concerns ranging from disordered eating to destructive behaviors in their young athletes. Community Resource Center of Teton Valley employees also reports an increase in emotionality and difficult behaviors in their clients. Aside from Teton Valley Mental Health Coalition's limited work, the work of Teton Valley Health and the efforts of the Family Safety Network, little is being done to directly address the root causes of these emergent issues. Few, if any, cross-organizational programs or services exist, and no specific community-based prevention work is occurring. Community members not only deserve access to quality, affordable services, but they also deserve to be served before they find themselves in crisis.
This grant will support Teton Valley Mental Health Coalition in providing its Community Mental Health & Wellness Program, the goals of which include: strengthening some of the mental wellness work already occurring in our community; educating other organizations, agencies, and community stakeholders; and raising community awareness of mental health care strategies. This will allow Teton Valley Mental Health Coalition to better meet the needs of our community, reduce duplication of services, increase access to programs and services that fill the gap created by the lack of individual mental health providers in our area, and ultimately save lives.
The Community Foundation commends the important work of Teton Valley Mental Health Coalition in addressing Teton Valley's mental health needs and proactively promoting its wellness.