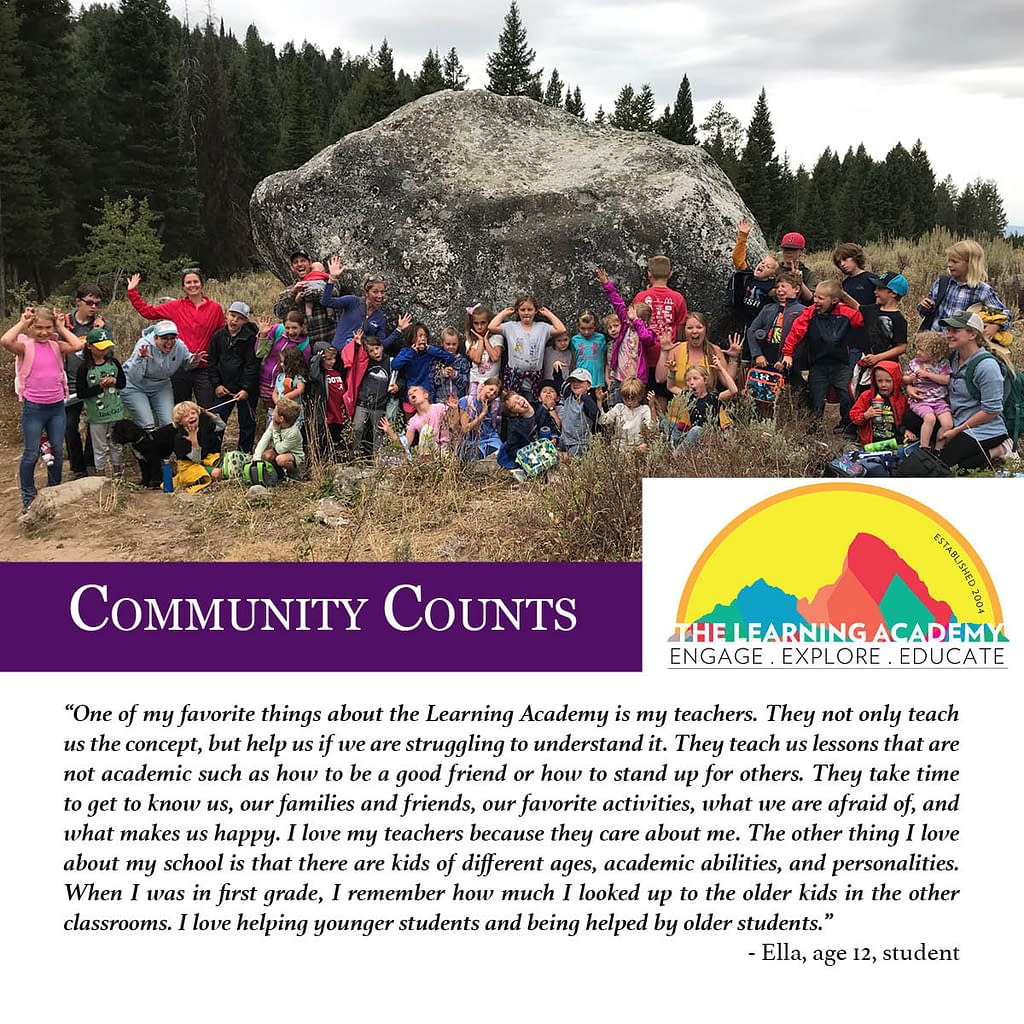 In sitting down to write our Why it Matters this year we read back over the pieces we've written for previous years and reflected upon the hundreds (maybe thousands!) of valley students we've had the privilege to serve over the past 16 years. While our mission is still very much the same and our dedication to our students, our families, and our community remain steadfast, so much has recently changed. As we continue to navigate current events, the fact that our world feels like such a different place can't be ignored when writing about why the Tin Cup Challenge is so important to The Learning Academy of Teton Valley.
None of us could have imagined that when we began the 2019-2020 school year with all of the promise and excitement of a new beginning that we would be ending our year navigating a whole new way of teaching and learning as the world suffered around us. While we remained grateful for our virtual time together, there is no reason to pretend it was not incredibly difficult, often frustrating and just plain strange for students, parents and teachers alike.
We did our best, as we always encourage our students to do. However, it is certain that our mission to focus on each child as a whole through individualized education, hands-on, experiential learning, travel and outings, and character development was hampered by our distance from each other. Being together is always better. Our one-on-one time with our students is irreplaceable!
While we remain hopeful that people everywhere will continue to heal and recover and that children across the country and around the world will be able to begin classes together again in the fall, we certainly worry for the future of our little school. It feels most honest and forthright to say that the reason that it matters so much to us this year, is the Tin Cup Challenge could literally help to carry us through this uncertain time so that we can continue to be an invaluable educational option for Teton Valley families through our academic year, after school programs and summer camps.
We have such tremendous gratitude for this valley we call home, our incredible community, The Community Foundation and its donors, and the families who continue to trust us with their children's educational journeys. We believe that the strength of character, emotional intelligence and critical thinking we work to support and instill will help guide our young peoples' paths forward. We're confident these paths will lead our children to create a continually more compassionate, aware, and sustainable future for our valley, our country and our planet. We wish you all good health and thank you for your generous support of our little school.