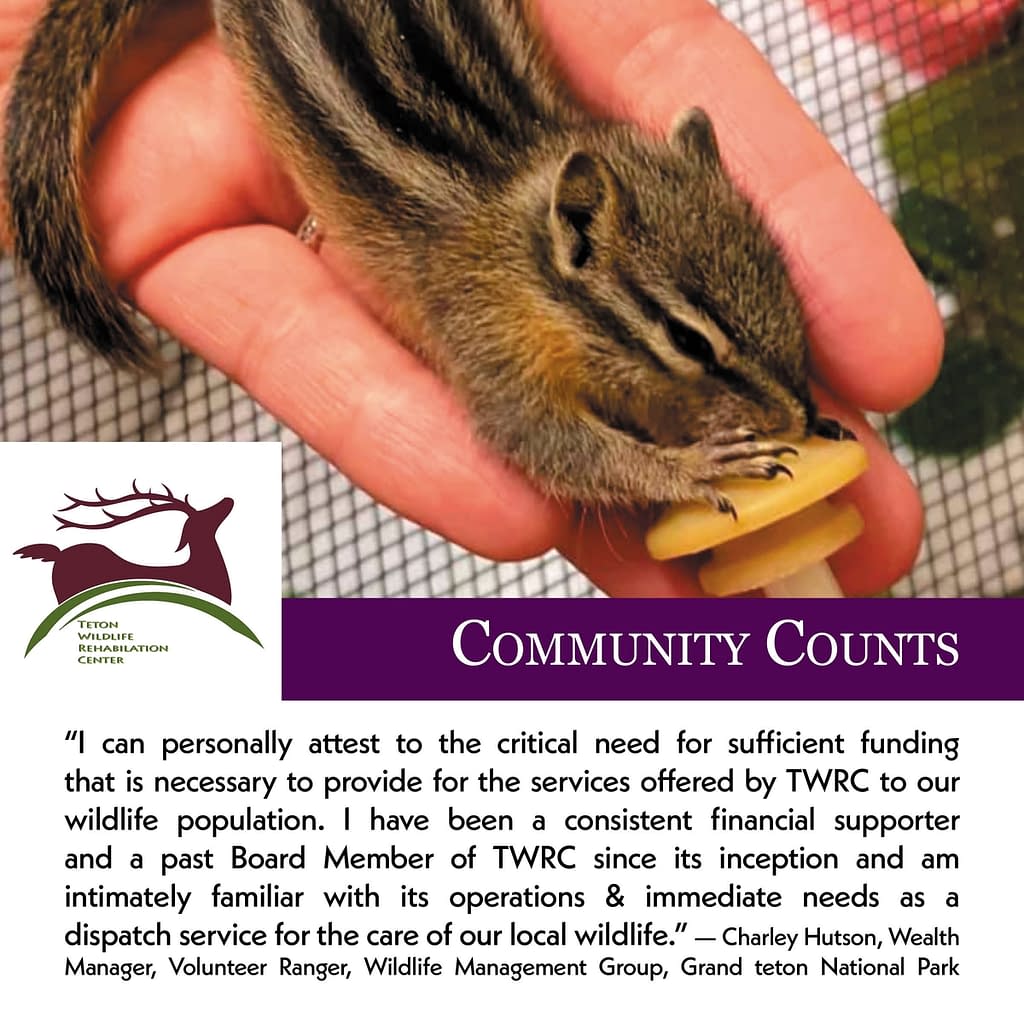 Local veterinarians are not able to take in wildlife patients.
Local DVM, Summer Lee Winger, sees the dilemma first-hand, that the regular veterinary clinic is not the channel for wildlife rehabilitation.
"It is difficult in most cases to work on wildlife in a normal clinic setting. The goal of wildlife treatment is to treat, rehab, and release with as little human interference as possible."
Teton Wildlife Rehabilitation Center (TWRC) bridges that gap of medical needs for wildlife, and to date has been very successful. TWRC has been evaluating how to improve the organization's accessibility to the community and visitors. They made a recent decision to launch an aggregated hotline before the end of the year. The addition of a dedicated SMS and phone service would not only increase TWRC's notification rate for wildlife in need and increase their ability to care for more animals but they would have the means for tracking incidents and translating that into usable data for the area.
With recreation and homeowners vastly increasing in Teton Valley and the surrounding area, the number of wildlife orphans and injuries is increasing. Wildlife rehabilitation centers nationally and internationally are seeing more incidents and receiving more calls especially since the pandemic began due to more traffic and more users, stimulated by a need to travel and commute separately and a desire to vacation domestically. This pilot program is in full alignment with TWRC's mission of rescue, rehabilitation, and release.
The hotline service will have the capacity to serve more than just Teton Wildlife Rehabilitation Center and the animals they treat. This hotline and the means for how it can collect information will aid local organizations and initiatives to better understand human activity's impact on wildlands.
Conservation Biologist, Michael B. Whitfield said, "As a biologist, I have personal experience that highlights the need for this service. Owing to my background in the study of birds of prey, I am often called when people see an injured hawk, eagle, or owl. I must then scramble to collect basic information, contact the relevant state agencies and rehabilitation facilities, and find the injured bird. The Teton Wildlife Rehabilitation Center's hotline will increase the likelihood of good outcomes for wildlife through the codified, consistent, and timely collection and sharing of pertinent information."
Teton Wildlife Rehabilitation Center has treated a variety of animals including but not limited to raccoons, marmots, kingfishers, numerous songbirds, chipmunks, red fox, Canadian geese, trumpeter swans, chukars, porcupines, snowshoe hares, deer, and pronghorn.