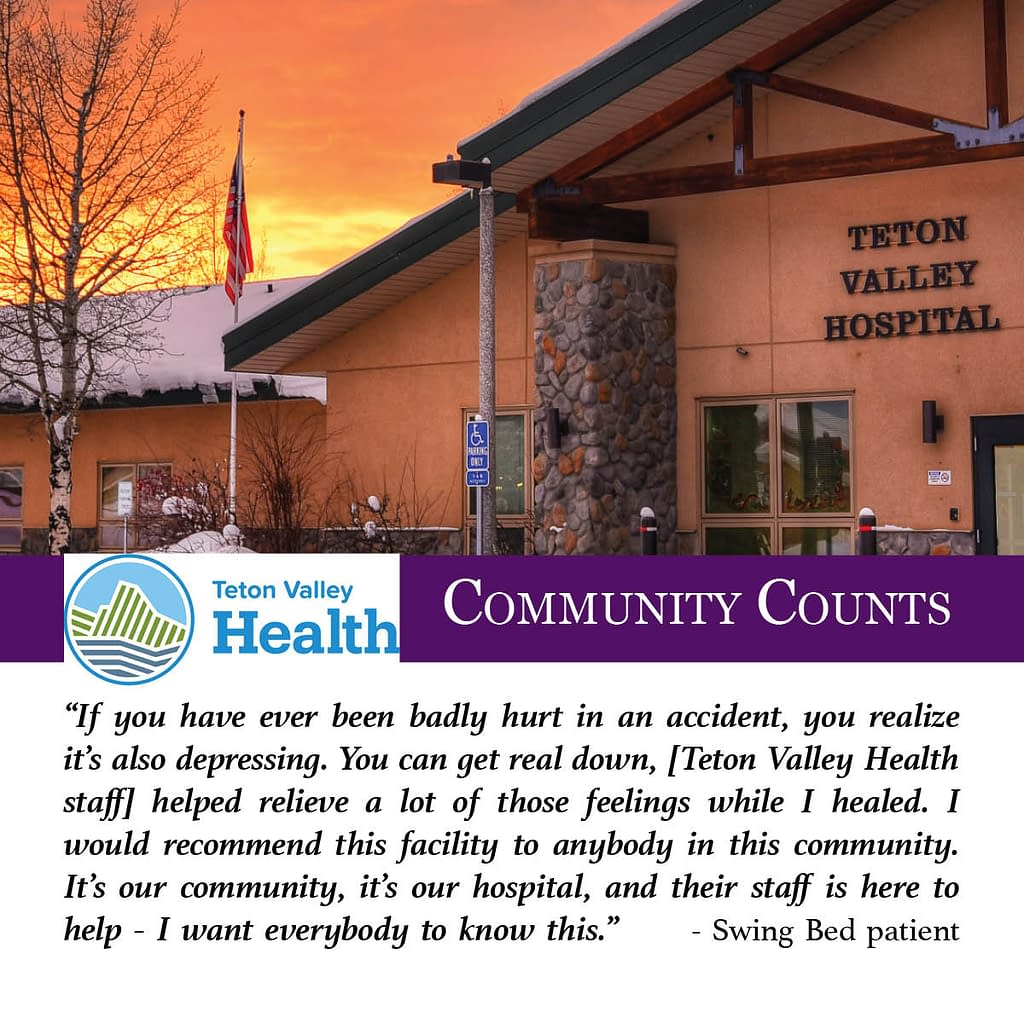 Teton Valley Health provides a 7×24 emergency room; inpatient and outpatient lab, radiology, and hospital; and 3 clinics to support Teton Valley.  We offer a range of care, from family practice and pediatrics to orthopedics and specialized care such as dermatology and cardiology.  Our mission is to encourage and support a healthier community.  We focus on preventive care and wellness, as well as acute and chronic conditions.  As a community resource since 1939, we continue to grow and evolve to meet the needs of our community.
As a community hospital we try to ensure we are meeting the needs of the community. Every three years we conduct a Community Health Needs Assessment to gather data from the community on desired changes and needs. Our focus has been to provide a wide range of services so that patients do not need to travel outside the valley for most services. We understand the burden of health care costs and strive to be competitive with other hospitals in our region. We also offer a community assistance program to those who are experiencing financial difficulties. In addition, we fund a large amount of the costs of providing specialist telemedicine (e.g., Infectious Disease, Oncology, Respiratory care, Stroke diagnosis). Since 2013, we have provided over $500,000 of unreimbursed healthcare through telemedicine.
We are private and do not get any taxpayer money to operate. As part of our agreement with the County, we lease our hospital building and pay the County a fee each year and a percentage of profits for that. Since our privatization in 2013, we have provided over $500,000 in fees and profit percentages to Teton County. We operate using operational funds and funds from donors and grants. We continue to improve the hospital facility, and have recently completed a new Victor clinic and have acquired the 4 Peaks Clinic to accommodate our growing population.
As Teton Valley grows, we want to continue to be a significant resource. We will continue to add services in response to growing needs. We continue to offer state of the art equipment to diagnose and treat many conditions. Our staff is professional, highly trained, and dedicated to serving the community. We, like most of the Valley, suffered significant losses due to COVID. We remained open, continued to employ our staff with modest reductions in hours, and worked to offer COVID specific items such as telehealth and the clean clinic to meet community needs.
We ask for your continued support to provide the services that the community needs. We will use the money from Tin Cup to expand our community assistance and specialist telemedicine programs; enabling those who have lost insurance/jobs or have otherwise been hurt by COVID to receive the care they need at lower, more affordable prices.