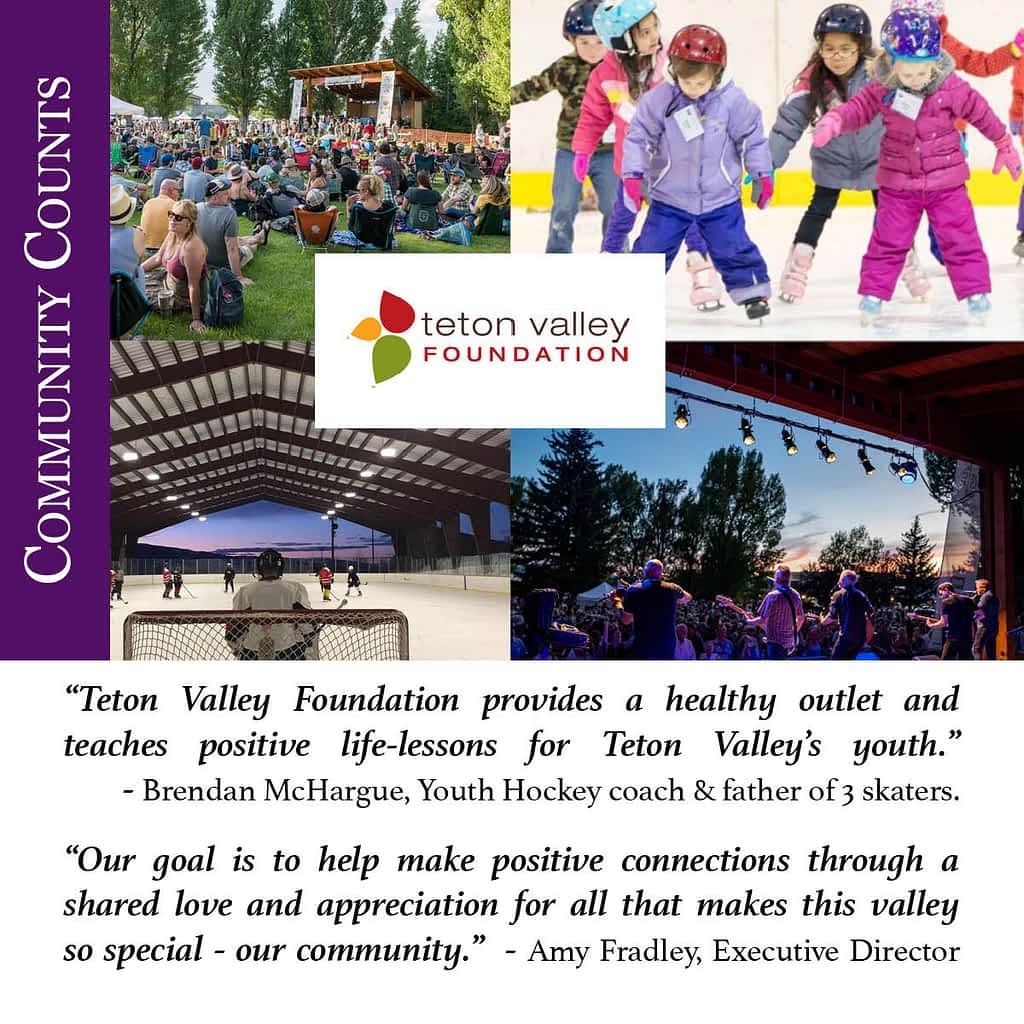 Teton Valley Foundation works year-round to make the good life in Teton Valley even better! Our goal is to help make positive connections through a shared love and appreciation for all that makes this valley so special, our community.
Did you know that we host approximately 26,000 skaters at the Kotler Ice Arena each winter? We provide safe, affordable recreation options to teenagers and families skating together at our Friday Night Ice. We coach over 200 skaters weekly and invite 350 students to participate through the Winter Sports program, in partnership with the Teton County School District. We provide scholarships for over 20 students in our Youth Hockey programs and host over 50 local and regional teams who travel to Teton Valley to participate in our adult pond hockey, women's hockey and youth hockey tournaments throughout the winter, boosting our local economy. We instill confidence, teach independence, teamwork, and mutual respect among all of our users. This is why it matters.
A summer highlight in Teton Valley is Music on Main, which attracts approximately 24,000 music lovers, families and friends to Victor City Park over the course of our 8-week series. The income received through your generous donations at the door helps to sustain our programming all year long. Last month, in order to keep our community safe, we made the extremely difficult decision to cancel Music on Main for the 2020 season. This is why it matters.
Fortunately, the Community Foundation of Teton Valley has been hard at work securing challenger funds to help shore up our valley's nonprofits. We are so grateful for the grant we received this past spring, allowing us to install ramps providing wheelchair access to the rink, and enabling our skaters with disabilities the opportunity to participate. Through the Community Foundation of Teton Valley's generous grant, now every member of our community who wants to be included at Kotler Ice Arena can be.
The Tin Cup Challenge helps us to continue achieving our mission. This summer the support you give through your Tin Cup donation will be essential to filling the financial gap left by the cancellation of Music on Main and will help cover operating expenses like year-round staff, Zamboni maintenance, sound production and the cost of bringing renowned bands from around the country back to our valley. This is why it matters.
We have all learned through these times of social distancing, how much we miss coming together as a community, as friends and neighbors, connecting through the power of music and on the ice. It's time for us all to come together now, even if virtually, so that when the pandemic is behind us, we can gather at the Kotler Ice Arena this winter and next summer at Music on Main to begin the healing process and to celebrate this amazing valley we are so fortunate to call home.
With Gratitude,
Amy Fradley, Executive Director
Teton Valley Foundation