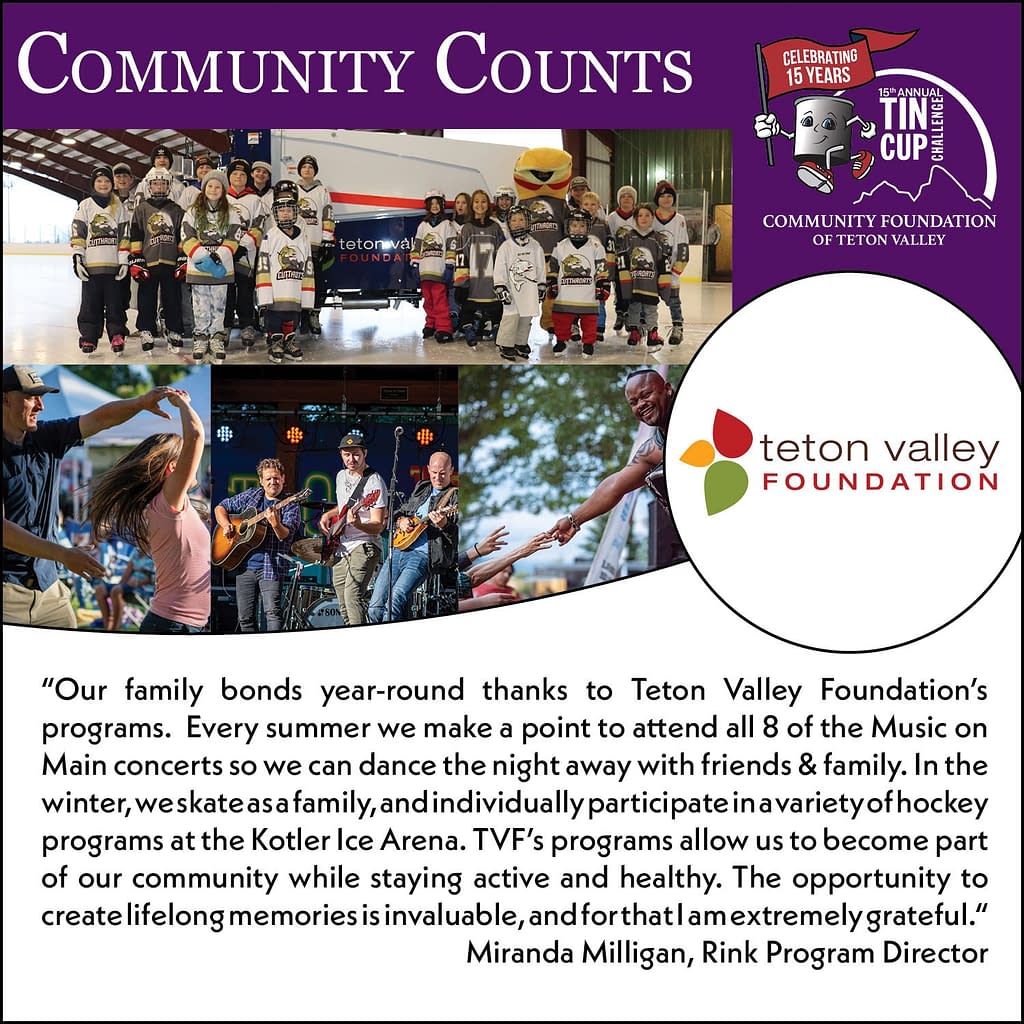 If we have learned one thing over the past couple of years, it is that we are social beings. We thrive on being together and sharing, whether it is singing and dancing at a Music on Main show, volunteering with old friends, making new ones, learning to skate for the first time, or being on a hockey team at the Kotler Ice Arena. We learned that we are lost without these opportunities. Thankfully life is returning to normal and we are once again able to enjoy all that Teton Valley Foundation has to offer, sharing in experiences together, all year long.
We could not put on a summer concert series that entertains thousands of local community members and visitors of all ages without the support of The Community Foundation of Teton Valley and the Tin Cup Challenge. We could not continue to bring quality musicians to our stage or create opportunities for us to celebrate and make positive connections, without your donations through the Tin Cup Challenge. We could not sustain the infrastructure at the Kotler Ice Arena each winter, a facility that serves 1,500+ people each week, whether it be figure skaters, recreational skaters or budding hockey players. We could not have made the upgrades to our covered, outdoor skating rink or increased our staffing to support our growing programs without the generosity of the Tin Cup Challengers.
Over the past 14 years, the impact of the Tin Cup Challenge on TVF is beyond description and nothing short of miraculous. The financial support, donations, and matching challenger grant have brought joy to literally thousands of people with a shared desire to learn, laugh, exercise, and make lifetime memories. Bringing people together is what we do. Because of The Community Foundation and the Tin Cup Challenge, we can continue to thrive in our mission of making the good life in Teton Valley even better. We are proud to say that the impact we all make together on our Teton Valley community is, in fact, immeasurable.
With Gratitude,
Amy Fradley
Executive Director