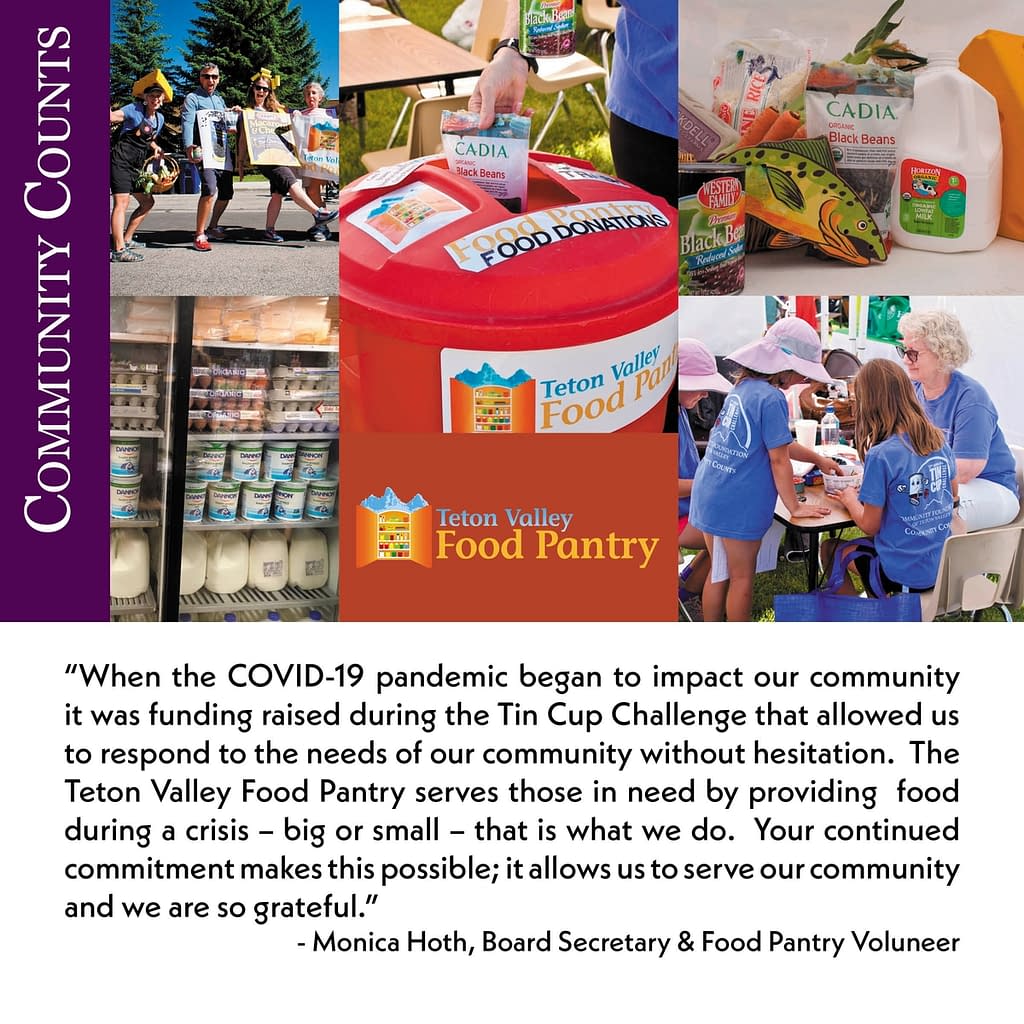 Teton Valley Food Pantry (TVFP) leads the movement to end hunger in Teton Valley. In good and challenging times, friends, neighbors, colleagues, and acquaintances live without a secure source of food on a daily, weekly, and monthly basis. In 2020, the Teton Valley Food Pantry provided 3,890 household food distributions serving over 14,000 individuals; this represents a 300% increase in food distributions since 2019. During the first quarter of 2021 up to twice the number of households and individuals served during the same period in 2020. Most importantly the statistics verify that our community and its members are still in need and trying to recover from the loss of income and financial resources during the past year primarily due to the COVID pandemic.
Food insecurity can be difficult to define. To a family that has limited assets and income food insecurity is real. The cost of an unexpected car repair, high utility costs, medical bills and educational costs can be overwhelming…add to that, the high cost of housing and other costs associated with living in a remote area and suddenly a household is stressed beyond their means to live within their budget. By providing quality, nutritious food we can help members of our community bridge the gaps and overcome the economic challenges they are facing.
Your donations allow the TVFP to provide a safe, reliable source of food to local low-income families and individuals in a respectful manner and convenient location. Administrator Sue Heffron leads the day-to-day operations at the Food Pantry with a large group of dedicated volunteers who help with food stocking, packaging and distributions.
The COVID-19 pandemic resulted in distribution changes in order to comply with state food pantry and CDC guidelines. Local food drives had to be put on hold; and the Food Pantry was forced to procure all food directly through the Idaho Food Bank, commercial sources and by leveraging contributions and donations from local resources.
The Food Pantry currently still provides each client with a shopping list where they choose the items most needed in their household; volunteers then fill each client's order. This allows food to be handled safely, while letting individuals choose the foods that are best for their family.
Your gift helps provide fresh healthy food choices such as meat, milk, eggs, cheese, yogurt, fresh fruit and vegetables for distribution to our clients.
Since 2020, the Food Pantry has increased distribution hours, and currently offering three weekly food distributions in order to meet the growing number of households served. Sadly, the increased demand for assistance forced the pantry to relocate again; we are currently in the process of negotiating a new 'housing' agreement for the pantry. Your contribution through the Tin Cup Challenge will help keep the Food Pantry doors open and shelves stocked. The Teton Valley Food Pantry is truly a community-driven organization where your donation has a direct impact on the most basic element of people's daily lives – FOOD!
The TVFP is currently located at 1420 North Highway 33, Suite 103 in the Teton Valley Business and Education Center (Trailhead Business Center). For more information please reference our website at www.tvfoodpantry.com