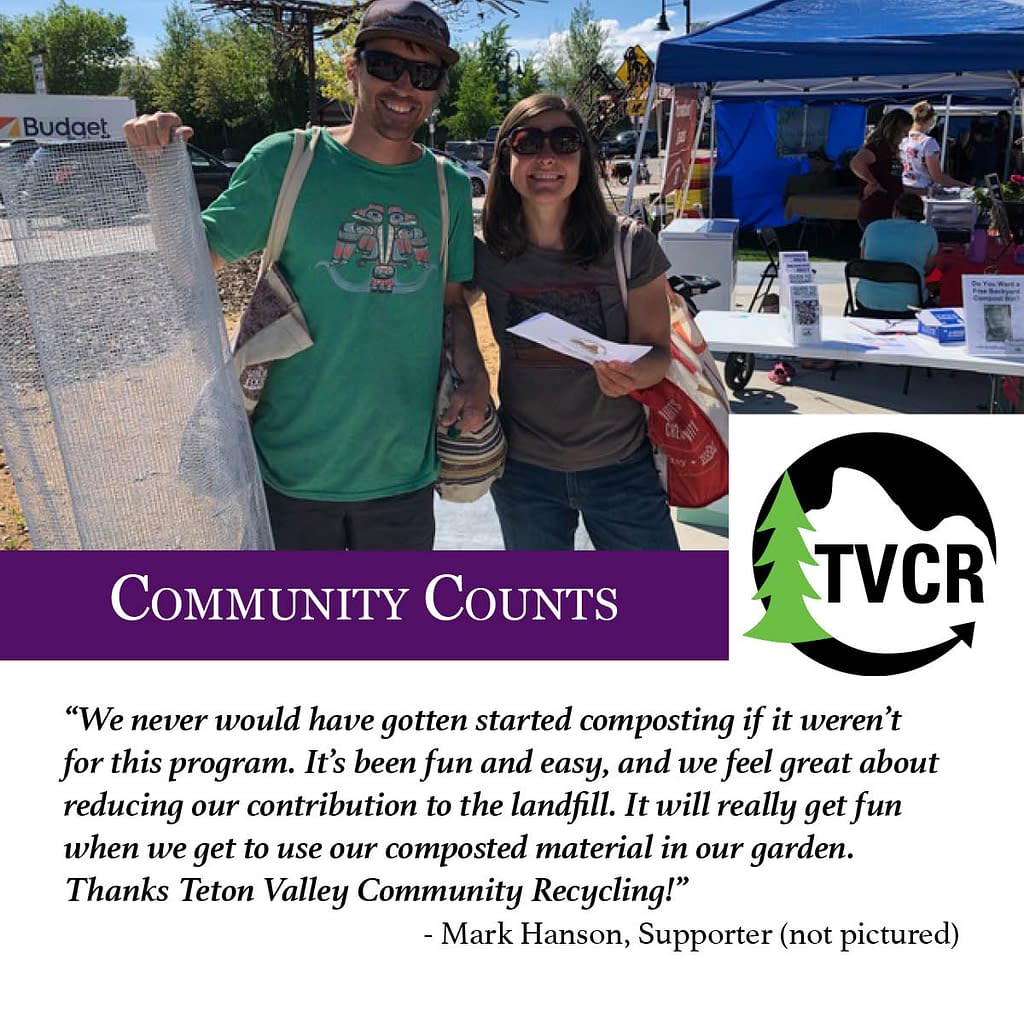 Since helping successfully establish the County's Recycling Center in 2011, Teton Valley Community Recycling's role has grown to being the community collaborator, educator, and advocate for overall waste reduction including improved recycling opportunities. As Teton County's Solid Waste budget monies go primarily to processing and managing all materials including recyclables brought to our Transfer Station, there is precious little left over to support community outreach and education. Teton Valley Community Recycling fills that role. In addition, we work with the County and private waste and recycling hauler, RAD Curbside, to develop waste reduction solutions for our remote rural mountain town that are economically sound and environmentally sustainable.
Over the years, Teton Valley Community Recycling's focus has shifted away from merely encouraging household recycling to helping community organizations and businesses reduce waste at the source through education and collaboration. Notable successes have been composting all of the Tin Cup Challenge event food and paper waste for the past two years and working with the Teton Valley Foundation to promote their outstanding cup rental program at Music on Main. It makes us happy to help people "green" their events, their businesses, and their lives at home.
In 2019, funded by the DEQ, Teton Valley Community Recycling spearheaded a program in the Valley focused on reducing Construction and Demolition (C&D) waste. We worked directly with local contractors, educating and incentivizing them to sort their C&D waste which saved them money in tipping fees at the Transfer Station and encouraged reuse of materials. We also ran a very successful Community Compost program where we helped fifty local households build and start their own backyard compost bins. As a result, more than 2,000 pounds of food waste were NOT going to the landfill in the first year alone!
This year, Teton Valley Community Recycling is working with local schools to encourage and educate the next generation to think about waste in perhaps new ways; to think about and develop solutions to reduce overall waste, reuse items, conserve resources, and recycle right. We will also continue to help community members adapt to any shifts in-home waste management caused by COVID-19 as we all strive to stay healthy while minimizing unnecessary waste.
No, we are not the Recycling Center! However, we do sponsor specialty recycling collections such as the annual Denim Drive and Holiday Lights recycling. Additionally, we host a community TerraCycle program at the Geo Center in Driggs for recycling "hard to recycle" waste items such as old toothbrushes and toothpaste tubes, contact lenses, and health care packaging.
Thanks to a community that cares about recycling and diverting waste, Teton County continues to have a successful recycling program even with the materials markets at historic lows. And, for the past two years, Teton County, Idaho has maintained a 34% overall waste diversion rate – equal to the national average and well above the rest of Idaho! By sorting our waste, we can all keep things out of the landfill that don't belong there, such as clean traditional recyclables, food scraps and yard waste (compost!), hazardous waste (bring to Jackson and get reimbursed by our County), electronics, and batteries which may be dropped off at any of our convenient sites in Broulim's, ACE, and Valley Lumber. Working together, we can keep recycling viable for Teton County, reduce the overall waste sent to the landfill, and reduce our landfill liability.
Check out our website (tetonrecycling.org) for more information about all of our great waste reduction programs and get more information about Recycling in Teton County. Please contact us if you'd like to get involved at tetonrecycling@gmail.com  or call 208.557.1193.
Thank you for your support!