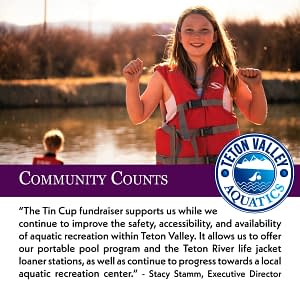 Teton Valley is surrounded by beautiful trails, mountains, rivers, and lakes for us to explore, recreate on, and enjoy. Yet, many of these environments pose a threat to unprepared users, particularly our wonderful rivers, lakes, and ponds. Drowning is the leading cause of unintentional death in the United States for ages 1-4 and the second leading cause of death for ages 5-9. In our valley alone, over one third of households surveyed reported having a non swimmer. Currently, there is only one location in Teton Valley that offers a small selection of swim lessons and there are no public pools accessible to all.. Swimming lessons being locally available and readily accessible to our community could save lives.
The mission of Teton Valley Aquatics is to create this healthier, and safer, community through the power of water by partnering with the City of Driggs and the community of Teton Valley to optimize resources for designing, building, and operating a successful aquatic recreational facility. Easy access to a local, community pool and recreation center will provide opportunities to learn and practice water safety as well as offer year-round health and wellness benefits.
Currently, residents in our community must drive over Teton Pass to Jackson or similar distances to neighboring Idaho communities to participate in learn to swim or other aquatic wellness programs at public pools. A community aquatic facility in Teton Valley will enhance the overall safety, accessibility, and availability of aquatic recreation opportunities for all Teton Valley residents and visitors.
Since 2016 Teton Valley Aquatics has been working with the City of Driggs and local community members towards making an aquatic recreational facility a reality. At this time we have successfully identified the need and feasibility, as well has selected a site in Driggs for the facility. This summer, we will begin drilling a geothermal well to determine availability of geothermal hot water for use at the facility. The results of the geothermal well will drive the design phase of the project.
While most of our year-round efforts are focused on the long-term impact of building and operating an aquatic recreational facility in Teton Valley, we are also focused short-term on improving the limited aquatics options currently in Teton Valley. This summer, we will be partnering with the City of Driggs to operate an above-ground portable pool facility in a city park where we will be able to provide water safety swim lessons, senior aquatics classes, and use by physical therapists. This portable pool will help us to address the limited access to pools in Teton Valley and allow us to succeed at our mission of improving the health and safety of our community through the power of water.
Now more than ever our mission is coming to life and we need our community's support through Tin Cup donations so we can continue on our journey towards a year-round aquatics recreation facility for our Teton Valley community.