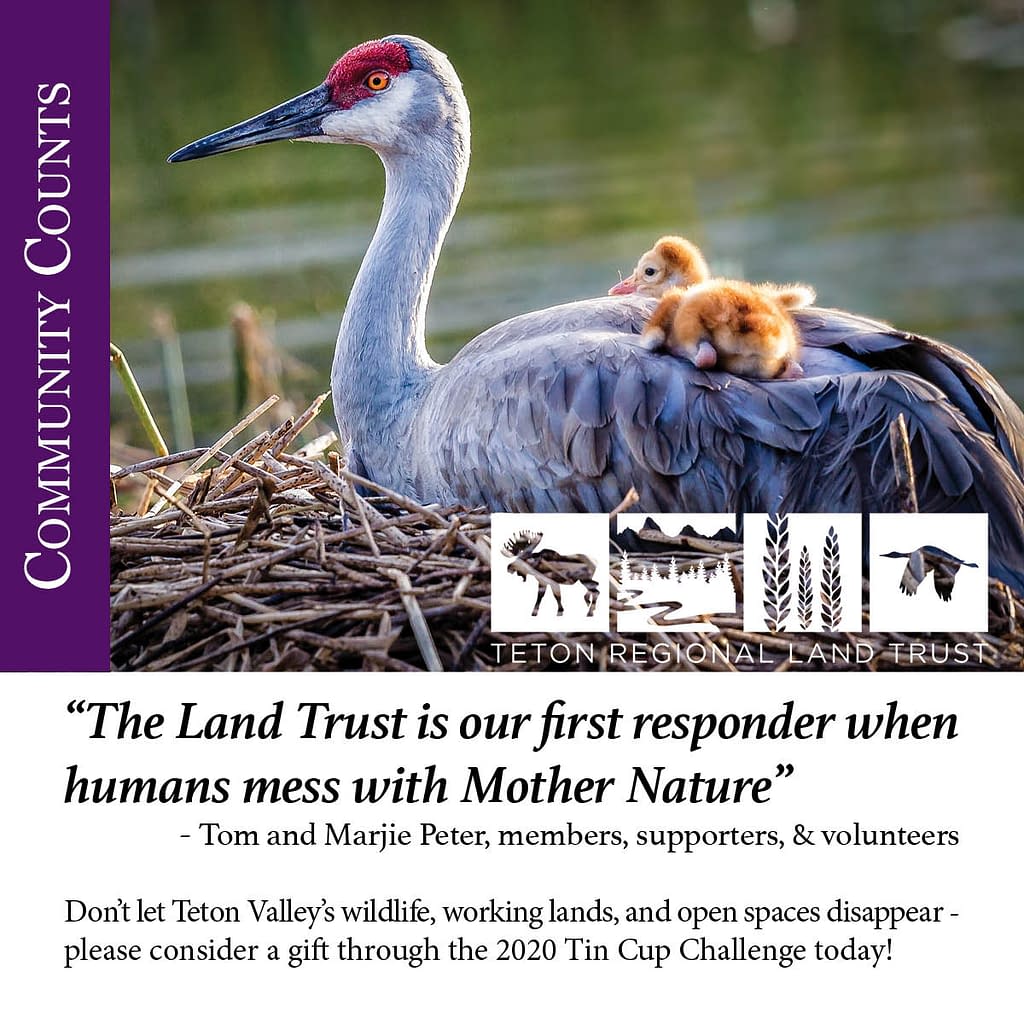 This summer, the Teton Regional Land Trust is celebrating its 30 Year Anniversary. We are so grateful for the dedicated community members that were compelled to give back to nature and founded the Land Trust to serve our community three decades ago! The impact of their vision, and of all those that supported them is evident in the protection of over 11,000 acres of habitat, working farms and ranches, and open space in Teton Valley. Here are just a few reasons that continuing to support the pro­tection of our place is more important than ever:
Nature Heals
Whether it's going out for a walk, bike ride, or a float on the river, being in nature releases endorphins and enhances physical and mental well-being. Taking a fresh breath of clean air while watching raptors soar across the sky, fishing the clean, clear waters of the Teton River, or hiking through endless meadows of wildflowers in Teton Canyon is a gift we are lucky to experience. We appreciate the benefits of nature for human health and that's why the Land Trust works to protect land and provide public access for you to learn, enjoy, and connect with our landscape and its unique habitats and species. Soaking up nature with all of our senses has been shown to bring a feeling of calm and improve nervous and immune system function, something we can all use right now.
Nature Provides
Teton Valley was settled by homesteaders that farmed and ranched their land from one generation to the next. Cultivating the land is deeply ingrained in our cultural heritage and makes our community versatile and resilient. We protect our agricultural lands not only because they provide us with food, but they also provide much-needed resources for unique species such as the Long-billed Curlew and the Sandhill Crane. Family farms and ranches also allow for open space that many animals rely on to move between their winter and summer ranges. It is a delicate balance that has been working cooperatively for hundreds of years!
Nature Connects
Although faced with yet unknown hurdles, our work at the Teton Regional Land Trust protecting what is important to you will continue. As we move through the challenges ahead, we need your support now more than ever to ensure we can keep protecting criti­cal habitat, open spaces, farms, and ranches. Nature brings us together in the toughest of times with its healing powers. You, us, our community, every person, and every species on Earth, we all are connected to one another through a common need for clean water, clean air, and healthy food.
As we look to the next 30 years, we hope you will give back to nature through supporting our work with a Tin Cup gift today, so that in another 30 years, the community looks back to all of us and is thankful for our efforts to give nature a chance to thrive. Community Counts!