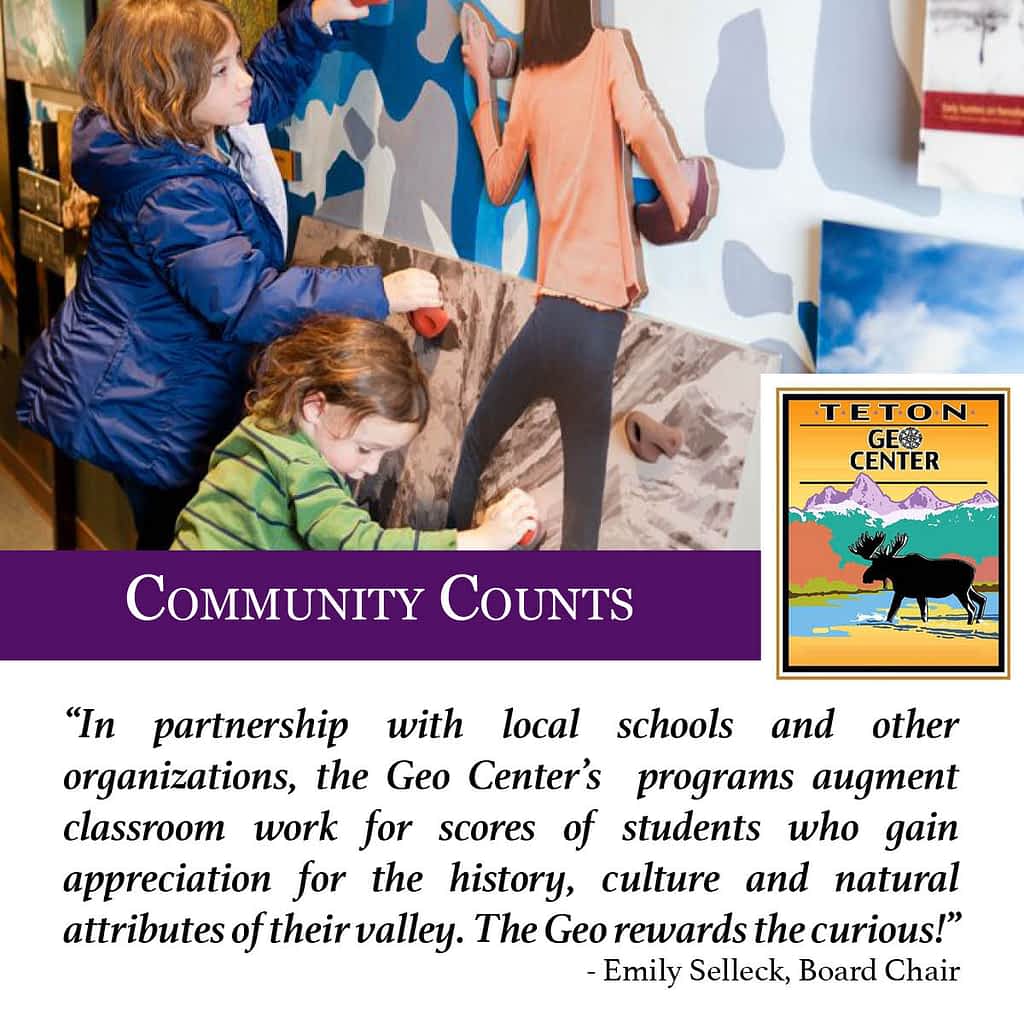 The Teton Geo Center provides comprehensive exhibits, space for local artisans, community events, meeting spaces, and educational programming for Teton Valley students and the public. We also encourage and guide visitors toward rewarding outdoor adventures.
Collaboration is our forte. In partnership with local schools, Girl Scouts, and organizations such as Friends of the Teton River, our programs augment classroom work for scores of students who gain an appreciation for the history, culture, and natural attributes of their valley. We also welcome nonprofits to use the Geo for receptions, board meetings, and workshops.
Since the Teton Geo Center's inception in 2014, its mission has been to provide a community information center with education on all aspects of Teton Valley, including: outdoor adventures and recreational opportunities; protecting and preserving our forests, rivers, wetlands, and farmlands; and encouraging visitors and locals alike to engage in our area's cultural heritage–its history and traditions, its music, contemporary art, and its local food. Our programs and exhibits help build local pride in our community and respect for our unique valley. The Geo rewards the curious!
Last year, 13,000 people came through the Geo. More than 400 were local students and community members who benefitted from our educational programs, exhibits, and showings of local artisans.
The Geo is more than a Visitors' Center: it is important community-building work, always in progress. Please support the Geo through Tin Cup.
Geo Board of Directors:
Emily Selleck (Board Chair) Retired PA, University Extension Educator
Erica Hansen, Biologist, Jackson Hole Land Trust
Ralph Mossman, Glass Artist, Driggs City Council
Rick Baldwin, Architect, Downtown Driggs Assn. Board Member, and member of DURA