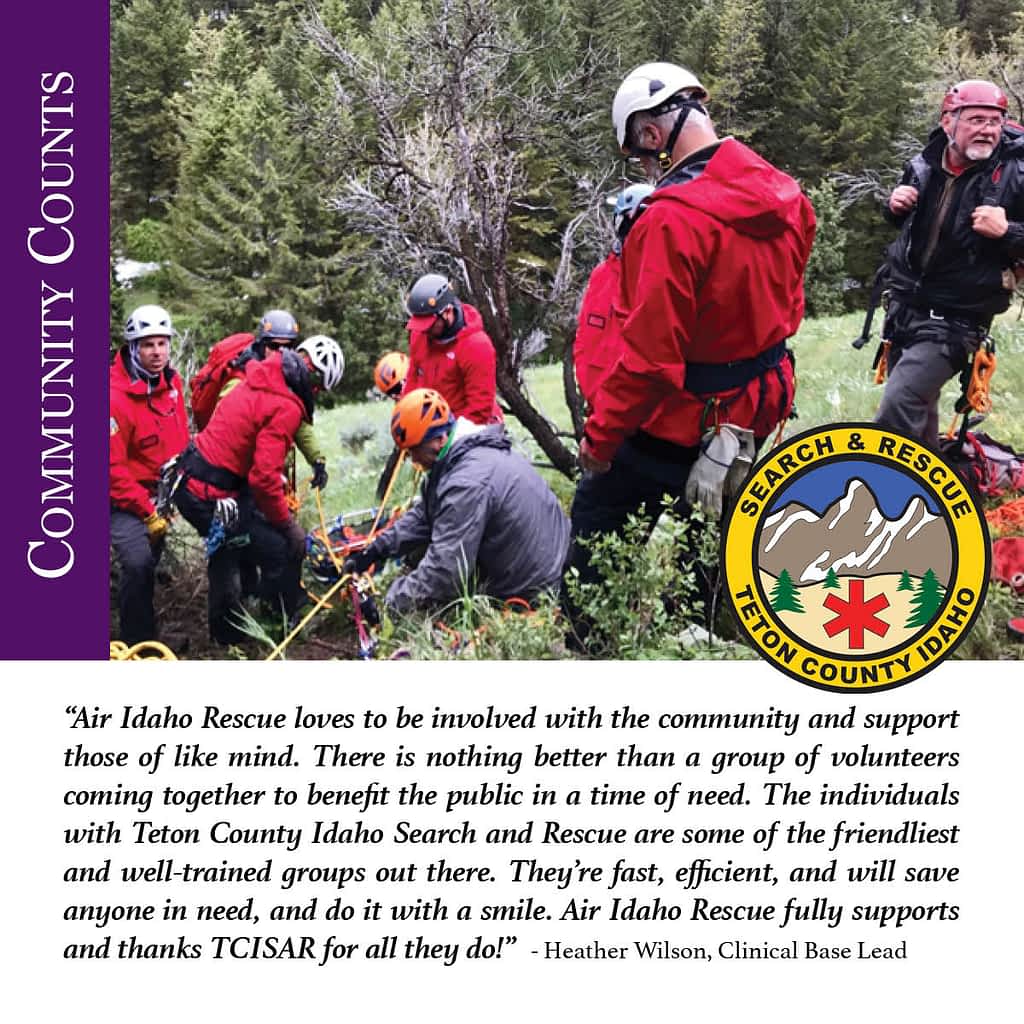 It's a beautiful evening for a late summer full moon hike. Two well-equipped hikers head up a trail near Victor to enjoy the view. The hikers reach the top but lose the trail on the way down. They can see the highway, but they just can't figure out a safe way down. Luckily, they have enough cell phone reception to call 9-1-1.
It is about 3 a.m. when dispatch issues a call out to Teton County Idaho Search & Rescue. Per protocol, this call goes out to all TCISAR members, all of whom are volunteers. Available personnel report immediately to the armory building in Driggs, where TCISAR is based and where rescue vehicles and equipment are stored. Just after 3 a.m. on this morning, four Search and Rescue members gather at the base, then head to the trailhead. Two members set up an incident command, a station where they can remain in contact with the lost hikers, county dispatch, and the rest of the TCISAR team and two others set out to hike the trail.
TCISAR crew members near the top of the ridge and soon the team makes voice contact with the lost hikers. When the rescuers find the hikers, at around 7:30 a.m., the travelers are cold but in good enough shape to follow the Search and Rescue team back to the trail and down to the trailhead. Crisis averted.
Rescues like this one highlight how much TCISAR means to this community. TCISAR has been serving this valley and surrounding areas for 21 years, and they are the reason quite a few people are home safe with their families today. From serious injury evacuations to disoriented hikers, TCISAR responds to them all. The organization averages 12 rescues per year, which may not seem like much, but for those 12 groups of people, it can be the difference between life and death. Teton County Idaho Search & Rescue is an all-volunteer team that relies on donations for capital equipment purchases, member equipment purchases, equipment maintenance, and training. The community's continued support of Teton County Idaho Search & Rescue will enable us to be there when you need us most. Connect with Teton County Idaho Search and Rescue on Facebook at fb.com/tcsarid.