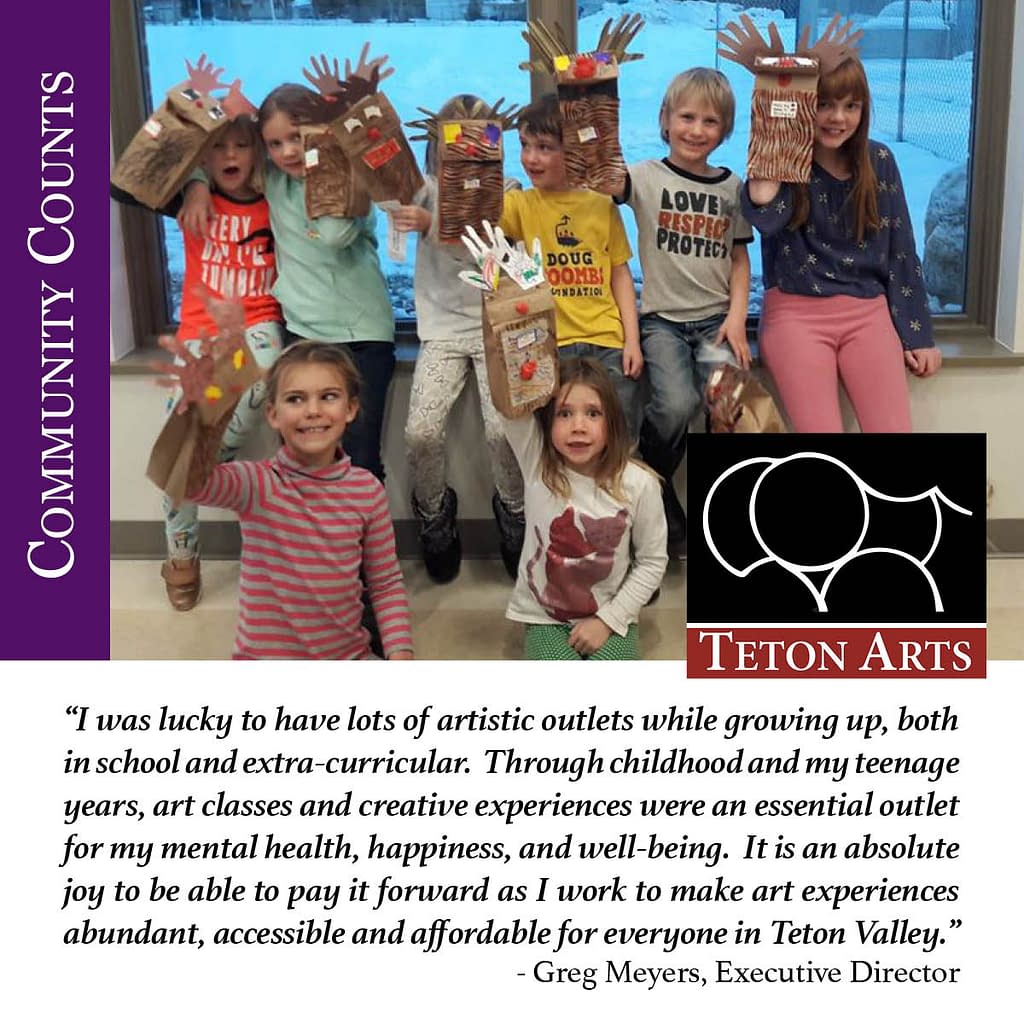 Teton Arts celebrates the positive power of the creative experience. Our ability to offer art outreach is directly supported through Tin Cup contributions. Research has shown that kids who are able to participate in art activities regularly are more engaged in school, extra-curricular activities, and their communities. The positive benefits of making art are apparent for creators of all ages. Our programs focus on engaging children from a young age while also offering continued growth through the arts for participants of every age. We offer many school field trips, we work with high school groups to enrich their art education and create public art murals for our community. We partner with the Joshua Smith House to offer adaptive art classes for adults with different abilities. Working with Seniors West of the Tetons, we engage our valley's seniors in creative experiences to keep their brains active while also providing crucial social interactions for some of our communities most vulnerable.
In Teton Valley, our elementary school children are offered art lessons only twice per month in the schools. With support from Tin Cup we are able to offer after-school art activities, field trips for classroom teachers and art outreach activities through out the year. By investing in art experiences for the children of Teton Valley, we are giving them tools of self-expression, time to contemplate, and aiding in cognitive development in ways only achieved through the creative process. The more kids create, the more they participate in our community productively as they grow.
Our scholarship fund is supported by your Tin Cup donations. To make art experiences affordable and accessible for everyone in Teton Valley we need to subsidize those who cannot afford classes or after-school programs. In 2019 we awarded more than $7500 in tuition assistance to more than 75 young artists. Thanks to your support, to this day we have never had to turn away a scholarship applicant, and with your continued partnership we hope we never will.
New in the last couple years, Art potlucks have become one of our favorite ways to invite new people to the studio making time and space to build community through a good meal and creative activity. Through creative experiences we are strengthening our community and improving the lives of our Valley residents.
"I was lucky to have lots of artistic outlets while growing up, both in school and extra-curricular. Through childhood and my teenage years, art classes and creative experiences were an essential outlet for my mental health, happiness, and well-being. It is an absolute joy to be able to pay it forward as I work to make art experiences abundant, accessible, and affordable for everyone in Teton Valley." – Greg Meyers, Executive Director