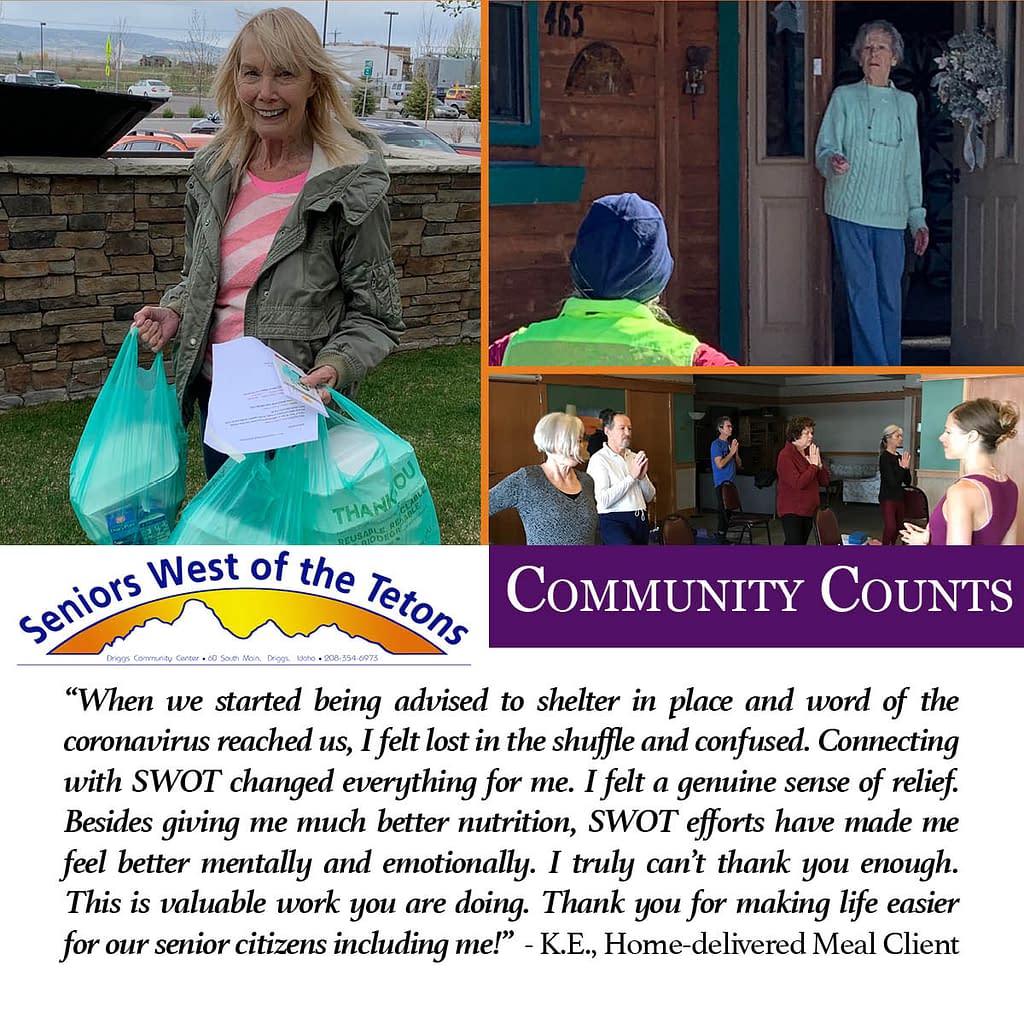 IN THIS TIME OF CRISIS, seniors need help more than ever. Issues senior citizens face such as staying active, proper nutrition, and isolation are more pronounced during this pandemic. Seniors West of the Tetons normally addresses those needs for seniors in Teton Valley.
However, due to the novel coronavirus known as COVID-19, the Senior Center had to halt public operations, losing multiple revenue streams. Classes stopped. Events were canceled. Despite that, our work continued.
Seniors West of the Tetons, commonly referred to as SWOT, focused on doing everything we could to support seniors, the most vulnerable population in the coronavirus outbreak. Our efforts included:
Tripling the number of meals delivered to seniors who can't leave their homes.
Partnering with the Food Pantry of Teton Valley to supply bags of food.
Supplying masks and hand sanitizer with deliveries.
Making take-out meals for seniors who could walk or drive to the Center.
Surveying seniors during deliveries about health or possible other needs.
Calling seniors regularly to check on their welfare and just to visit.
Providing assistance to help seniors access online meetings and classes.
Planning in-person, social-distancing events this summer to combat loneliness and isolation.
Seniors West of the Tetons is grateful to participate in the Tin Cup Challenge annually. These unrestricted funds collected through the Community Foundation of Teton Valley make up a significant portion of our operating budget. We can't operate at the level we do without them. Now with other revenue streams lost because of a long-term closure, the Tin Cup Challenge contributions are more important than ever. To ensure services for seniors continue without interruption and the long-term viability of the organization, we need the community's support. To donate, visit http://tetonseniors.com/tin-cup/.
BY THE NUMBERS …
1,500 to 2,000 – The number of seniors living in Teton Valley.
3,480 – The number of meals served in 2019 at the SWOT Community Center, a 24% increase.
1,256 – The number of meals delivered to homes in the valley in 2019, a 54% increase.
85 – The number of people participating weekly in health education and exercise classes.