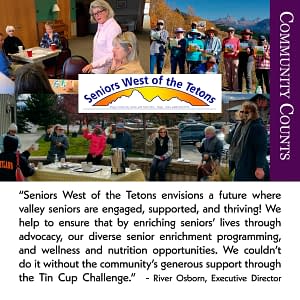 The past year magnified the importance of so many social services in Teton Valley. And while more hopeful times seem to be here, for our most vulnerable populations, like our senior community, navigating the current times is an ever-present need. Cue Seniors West of the Tetons. Armed with a mission of enriching seniors' lives through advocacy, diverse programming, and wellness and nutrition opportunities, SWOT is ever focused on supporting Teton Valley seniors and envisions a future where seniors are engaged, supported, and thriving.
Seniors West of the Tetons is an active bunch. From bike rides and bird watching outings to book clubs and virtual bingo, engaging is just one way to describe this vibrant and lively sect of the community. An anchoring part of SWOT services is running the Senior Center, located inside the Driggs City Center, where weekly lunches are served, and home delivered meals are cooked. Along with the nonprofit's indoor programming, indoor dining came to an abrupt halt when the COVID-19 pandemic took hold. But executive director River Osborn is excitedly awaiting lunchtime regulars to fill the space again.
Seniors West of the Tetons keeps the calendar packed with health and fitness classes, social gatherings, and special programming (If you've never been to the lively fall pie auction or participated in a rousing Seniors West of the Tetons golf tournament, you're in for a treat.)
The home-delivered meal program has continued to grow throughout recent years. Led by kitchen manager Ceci Clover, a total of five lunches are delivered on Mondays, Tuesdays, and Thursdays totally nearly 5,500 meals during the year. New during COVID-19 times, seniors also receive groceries on Thursdays to offset the need to go out and run errands. In 2019 the program had already grown by 50 percent. Now, those numbers have tripled, and we've already surpassed the number of meals we delivered last year.
One resident who utilized the meal delivery said it just made life easier: "When SWOT started helping me, I felt a genuine sense of relief. Besides giving me much better nutrition, SWOT efforts have made me feel better mentally and emotionally. I can't thank you enough. This is valuable work you are doing. Thank you for making life easier for our senior citizens, including me!"
Supporting SWOT means supporting your neighbors, friends, and community and ensuring our senior residents remain an active, important part of what makes Teton Valley so very special. U.S. Census Bureau data shows that nearly one-third of seniors live by themselves. A study from National Academies of Sciences, Engineering, and Medicine (NASEM) found that one-fourth of the population ages 65 and older are considered isolated and at increased risk for loneliness. The study goes on to point to a higher risk of overall health linked to feelings of loneliness. For Seniors West of the Tetons, combating that isolation and loneliness is key.