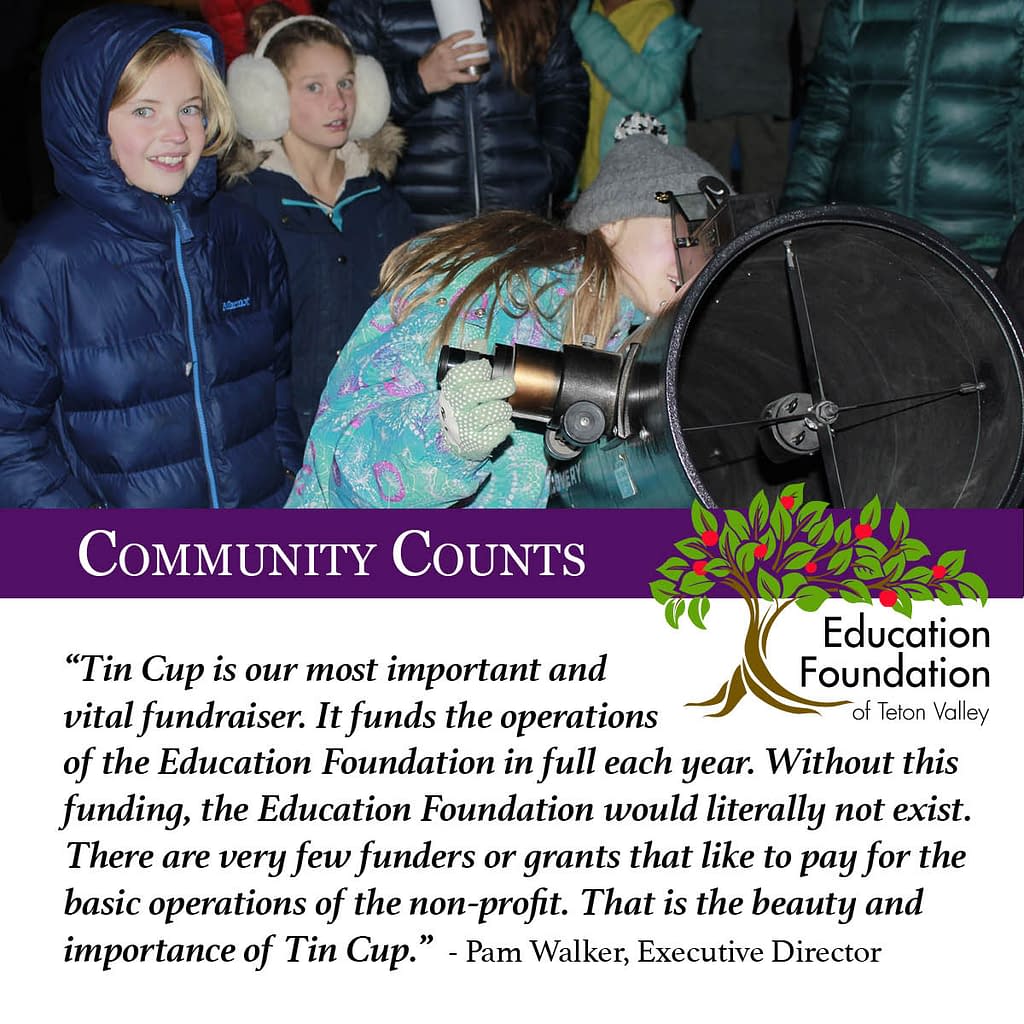 With distance learning now behind us this school year, what parent or grandparent did not gain a greater appreciation for our students' teachers? Most of us were frustrated just trying to get our students to focus on their lessons. Imagine the skills and endurance a teacher must have to handle a classroom of students all with different needs? Teachers are our true heroes!
This year, more than any prior year, donations to the Education Foundation during Tin Cup are vital to supporting these amazing professionals and making a difference in our public schools. Our ability to raise funds through events like Ride and Dine have been thwarted because of the pandemic. And with a mandated 5% cut in state funding, the needs will be even greater as teachers turn to the Education Foundation to help fund innovative programs and critical needs in the public schools.
The Education Foundation connects your dollars to where they are needed most within our schools. Each year, the Education Foundation of Teton Valley raises money to purchase critical needs for students, basic supplies for the classroom and fund innovative new programs that take learning beyond the textbook. In order to do this, we depend upon donations through the Tin Cup Challenge to sustain our work. Without these funds, we literally would not exist. It's that simple.
Your support of the Education Foundation during Tin Cup allows us to fund programs through grant writing, work with donors to connect their gifts to our schools, develop new ways to raise funds for our seven public schools, and support our hard-working educators who choose to forgo higher wages in Wyoming and live in this wonderful valley! Living in Idaho certainly has its advantages but it also has its challenges. It is one of the most beautiful locations in the U.S., but the State of Idaho funds education at a MINIMAL level. The supplemental levies, so generously supported through our local community, raises that funding to a BASIC level. Then the Education Foundation steps in and FILL IN THE GAPS where funding falls short.
You can make a difference in our public schools by investing your dollars in the Education Foundation of Teton Valley.
Here's what your donations were able to accomplish during the 2019-20 school year:
1,991 students impacted through the $22,070 distributed in classroom grants.
902 students were tested for hearing and vision impairments. 28 were referred for hearing issues and 75 were referred for further vision testing.
370 students in K-3rd grades learned basic conversational Spanish.
Over 900 students were able to take art classes through the ArtReach program.
100 students in need received backpacks prior to the start of school at Teton Valley Cares event.
14 girls participated in the GAP! Middle School summer workshop in August of 2019.
36 high school students participated in the robotics program.
12 families participated in the Abriendo Puertas (Opening Doors) program that helps parents understand the importance of becoming their children's first educator.
7 students received free exams and free eyeglasses through our critical needs funds.
1 math tutor assisted the math teachers by helping students with math questions.
Gifts to the Education Foundation through Tin Cup may be eligible for the Idaho Education Tax Credit. Single individuals can donate up to $1,000 and receive a $500 tax credit off their Idaho taxes. Married couples filing jointly can donate up to $2,000 and receive up to a $1,000 tax credit. Businesses can donate up to $10,000 and receive a $5,000 tax credit. You can consult your financial advisor for more information on this amazing opportunity!
Please remember the Education Foundation of Teton Valley with a donation during the Tin Cup Challenge. Your dollars make a tremendous impact in our schools and help those who work tirelessly to educate our students…. our amazing teachers!