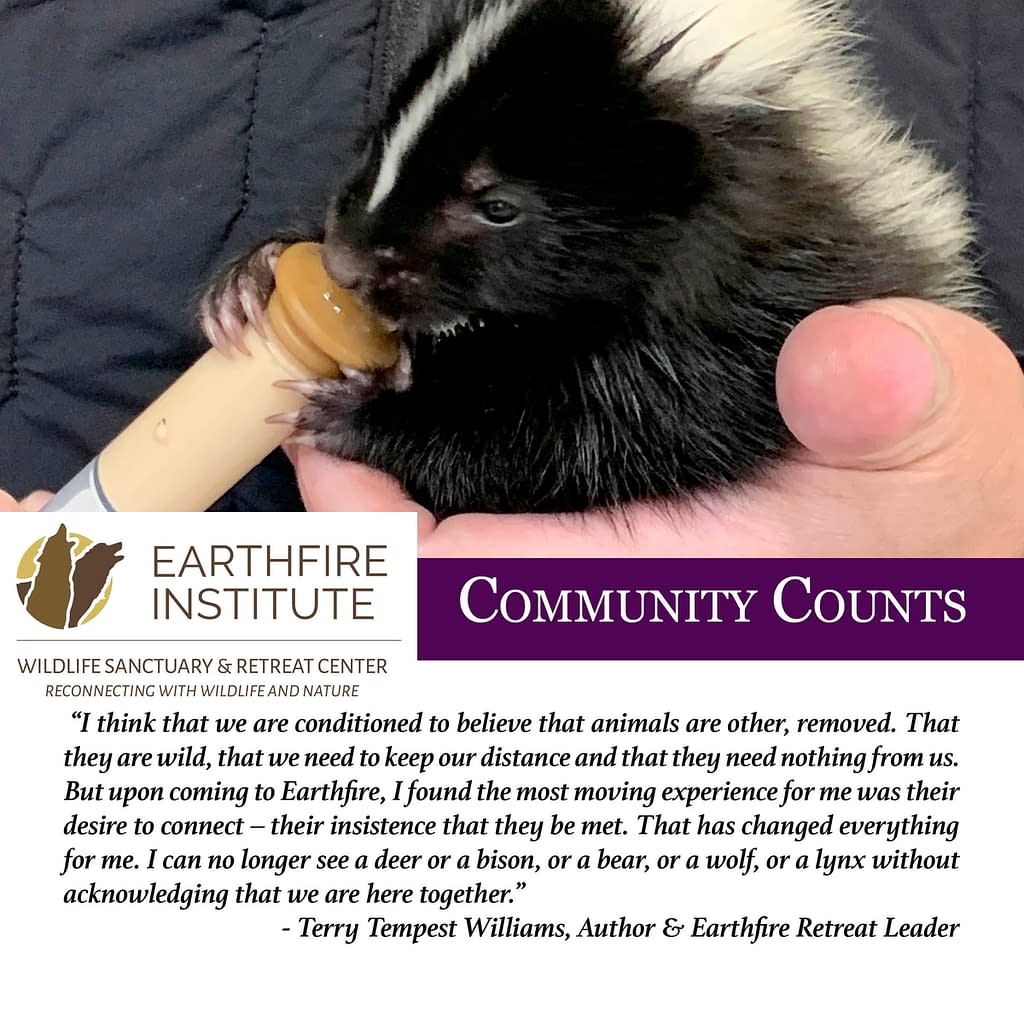 Through land preservation, wildlife rehabilitation, and the framework of Reconnection Ecology, Earthfire Institute serves as a local and international seed center for new ideas of how to relate to wildlife in a way that works for both humans and animals.
When you visit our website, you see videos and photos of our rescued sanctuary animals and rehabilitation "patients." All are native to our region. You'll see wolves running through snow. There are photographs of cougars, bears, bison, and more interacting with professional staff. Visuals on our website present an aspect of wild animals that many of us don't realize is possible. It's an aspect that can lead to a reawakening of our natural bond with our Earth and lead us to protect the animals and essential ecosystems that sustain all Life.
There is a burgeoning movement to recalibrate our relationship with wildlife as our current one is not working. In the last 50 years, we have lost 70% of all wild mammals, triggering our planet's 6th mass extinction era.
"I think that we are conditioned to believe that animals are other, removed. That they are wild, that we need to keep our distance, and that they need nothing from us. But upon coming to Earthfire, I found the most moving experience for me was their desire to connect – their insistence that they be met. That has changed everything for me. I can no longer see a deer or a bison, or a bear, or a wolf or a lynx without acknowledging that we are here together." – Terry Tempest Williams, author, and Earthfire retreat leader
At Earthfire, we've pioneered an approach called Reconnection Ecology that opens us to a more inclusive way of defining community, locally including all the life and natural forms around us as part of the community, and from there extending beyond our county borders to encircle every living being that shares our planet. We bring people and wildlife together by using various platforms that include retreats, story-sharing, film, writings, and workshops. Through limited onsite visits, we provide guided experiences with our domesticated wildlife, led by professional animal handlers. Through this interaction visitors are offered a vision of what is possible; the first step toward true reconnection.
The creeks and rivers that run throughout Teton Valley are the lifeblood of multiple migration corridors and habitats for wildlife of all shapes and types, from insects, fish, birds, and trees to rabbits, moose, and bears. Our wildlands are linked to the Greater Yellowstone ecosystem which is a vital portion of the Yellowstone to Yukon Migration Corridor, spanning 2,000 miles through the U.S. and Canada. When we understand – on a deep, emotional, and visceral level – that the preservation of wildlands is directly related to the preservation of our humanity, we'll make life choices that lead to a healthier, thriving Earth.
In 2020, Earthfire purchased and preserved 120 acres within the South Leigh Creek corridor, the last, best wildlife corridor in Teton Valley. Our trail cams (available on Vimeo) show the vibrant activity going on, day and night, within this stretch of land. It's our hope to preserve as much of this corridor as possible and to encourage others within our valley to take steps, large or small, to protect the gem of Teton Valley: our wildlife.
Earthfire is a partner of the Y2Y Conservation Coalition and a member of 1% for the Planet. In addition to our sanctuary, we are a licensed wildlife rehabilitation center caring for rescued orphaned or injured animals to be released back into the wild. We undergo regular inspections by Idaho State Fish & Game and the USDA and are members of the International Wildlife Rehabilitation Council.