Community Foundation of Teton Valley Youth Philanthropy Project Awards $3000 in Grants to Local Nonprofits
Teton High School students participating in the Community Foundation of Teton Valley's Youth Philanthropy Project have awarded grants totaling $3000 to five local nonprofits.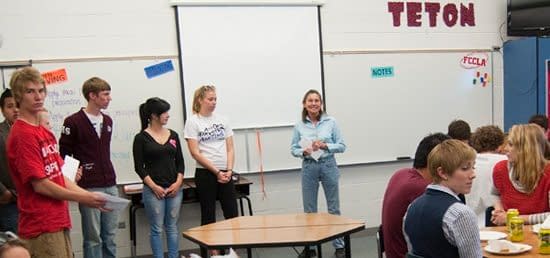 Through this CFTV pilot program, Teton High School students enrolled in the AP Government Class participated in their own grant making cycle and were solely responsible for final grant decisions.
"The experience provided students with unique insight into the needs within our community, the efforts that numerous local non-profits undertake to meet those needs, the challenges that arise in resource allocation processes, and the tools to meet those challenges," said Rose Hendricks, Government teacher at Teton High School.  "Because the students' decisions had real impact on the lives of community members, the decision making and compromise process had a weight and import to it that simply cannot be achieved through classroom simulations"
Participating students engaged in impressive discussions regarding community values and needs, and were particularly interested in the impacts of each grant as they determined how to allocate limited resources.  Many students were surprised at how challenging it was to determine which grants should receive funding, and noted that they would consider supporting nonprofits in the future thanks to this exercise:
"It opened my eyes in that the nonprofits aren't just looking for money, but for funding to help their causes and help them in their success," said Jed Christensen.
"I knew that our decisions were going to have a real impact so I took this seriously," said Jordan Hill.
"Being given the opportunity to help fund local nonprofits, and make a significant impact on the projects being done to meet community needs was my favorite part," said Gina Hickey.
"I think I will be more likely to donate to nonprofit causes in the future because I was able to see how these nonprofits could use money to further their impact in the community," said Derek Ripplinger.
"I realized that any amount of money makes a difference," said Lulu Montenegro.  "There was one grant that I responded to personally that we decided as a class not to fund.  I could potentially help them plan an event to help raise the money."
The following local nonprofits and projects received funding through the 2012 Youth Philanthropy Project:
Subs for Santa:  Teen gifts for holiday present drive
Summit Training Center: Financial Peace incentive program
Teton Valley Education Foundation: Eyeglasses for students in need
Teton Valley Hospital Foundation: AED training device
Valley Advocates for Responsible Development: Defense of voting rights in Tetonia
"The Community Foundation is thrilled with the results of this pilot project, in that it provided students with a meaningful real-world exercise in grant making which led to thoughtful debate about needs in our community and an increased awareness of the work of local nonprofits," said Shannon Brooks Hamby, executive director, Community Foundation of Teton Valley. "We are grateful to all nonprofits who participated by submitting a grant and we hope to continue the Youth Philanthropy Project next year."
Funding for the Youth Philanthropy Project was provided by Community Challengers, local individuals and businesses that donated to the annual Tin Cup Challenge match fund.  The Annual Tin Cup Challenge giving period opens on Friday, May 25, 2012.