Teton Valley Youth Lacrosse Association: $1,500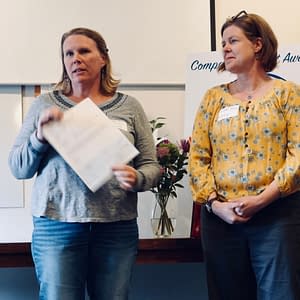 The Community Foundation of Teton Valley is honored to award this $1,500 grant to the Teton Valley Youth Lacrosse Association (TVYLA) to purchase an Automated External Defibrillator (AED ) medical bag and  AED CPR online courses for its coaching staff. The Foundation strongly supports purchasing additional safety equipment and staff CPR training to respond more quickly and effectively if a cardiac event occurs at one of their lacrosse games. 
The need for this equipment and training was exemplified last fall when an NFL football player suffered a cardiac arrest on Monday Night Football. His life was saved on the field by well-trained staff and an AED. More locally and tragically, TVYLA's girls 7/8 team witnessed a grandparent's unfortunate death last season on the sidelines. Bystanders administered CPR very quickly, but an AED could have saved his life.
These events led TVYLA to consider how it could be better prepared for a medical emergency on the field for its players and have the equipment and staff trained to help anyone, anywhere. Lacrosse has become a popular sport in Teton Valley and the region, and more people are attending TVYLA events/youth sporting events in general. In an emergency, whether a player or a spectator, an AED and CPR-trained staff can significantly enhance the probability of someone's survival rate until EMTs arrive. TVYLA plans to have an AED on the premises at any event in which TVYLA participates, and to train its coaches, as community members, to have the life-long skills to potentially save a life on the field or wherever they may be.
TVYLA will use this grant to purchase an AED medical bag and provide AED CPR online certification course for its coaching staff. The Community Foundation commends the important work of TVYLA in making lacrosse games safer for its players and spectators.