$5,000 – ABC: Above & Beyond the Classroom in Teton Valley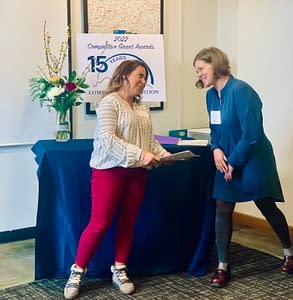 The Community Foundation of Teton Valley was honored to award a $5,000 Competitive Grant to ABC – Above and Beyond the Classroom in Teton Valley to enhance their after-school program for at-risk students at Victor Elementary School by purchasing ten student Chromebooks.  The Community Foundation is proud to support this need for students in Victor.
ABC provides academic enrichment, STEM, and wellness after school and summer programming for at-risk students in K-4th grade. The program defines at-risk students as: 1) children coming from low-income households; 2) children who are struggling academically or socially; 3) students who are English Language Learners. The makeup of ABC students is: 50% English Language Learners; 60% low-income households; and 70% academically below grade level in one or more areas.  As of the 2021-22 school year, ABC has two facilities serving different parts of Teton Valley: one in Driggs and one at Victor Elementary School. After opening the Victor facility, ABC's enrollment rose by 60%, highlighting the need for accessible after school programming across the valley.  They currently have 91 students enrolled at the two facilities.
ABC will purchase ten Chromebooks and a storage cart for its Victor facility. The Chromebooks will be Google-based computers that are equipped with academic programs for reading and math intervention. They will be the same computers and programs that students use in the classroom, seamlessly building on the instruction they're receiving while in school. The Driggs facility already has Chromebook computers for student use, so this will align the programs at both locations. Additionally, this grant will fund professional development training for the lead teacher at the Victor facility, as well as a portion of staff wages while implementing the project.  The Chromebooks will be put to use as soon as they are ready, either in May 2022 or at the start of the 2022-23 school year.  These computers will allow teachers to access district curriculum and provide academic enrichment for at-risk ABC students who are not proficient in literacy and mathematics for their grade level. 
The Community Foundation commends the important work of ABC. The addition of ten student Chromebooks for ABC's Victor afterschool program will provide academic enrichment for students who have the greatest need.