Support the Community Foundation of Teton Valley with a designated gift during the 13th Annual Tin Cup Challenge: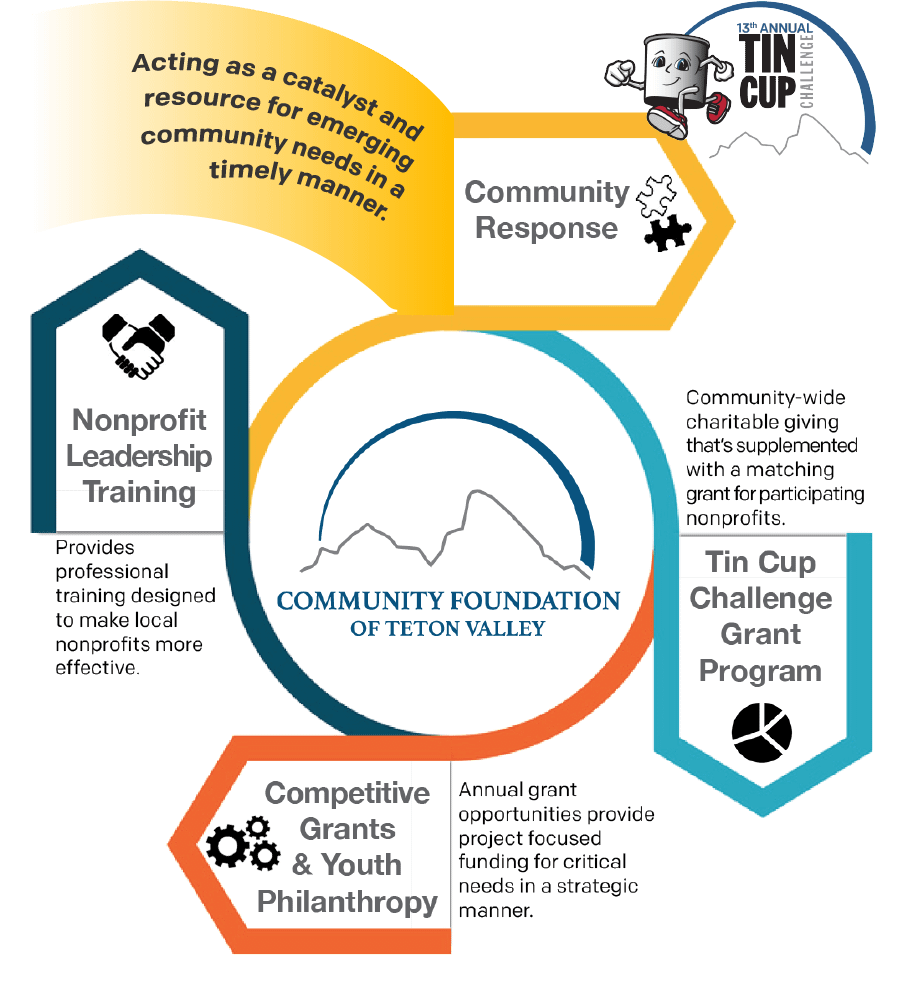 Community Response
This March marked a turning point in our lived history. From stay-at-home orders to masks, the pandemic has had a personal effect on all of us. While some have lost long-planned vacations and visiting loved ones, others have faced a reduction of work hours or complete job loss. The ramifications, both short-term and long were completely unknown in March. 

Given that our rural county relies heavily on nonprofit services to fulfill otherwise unmet needs, the Community Foundation of Teton Valley understood that action was necessary to financially support front-line nonprofits during this unprecedented time. With all of this in mind and as a preparedness measure, the Community Foundation of Teton Valley's Community Emergency Response Fund was created. In partnership with the Community Foundation of Jackson Hole, and Tin Cup Business & Community Challengers, the Community Foundation of Teton Valley committed $30,000 to initiate this fund, which has grown to a cumulative total of $126,500 thanks to the incredible generosity of our community.

The Community Foundation of Teton Valley has been honored to play the trusted role of collecting, housing, and distributing this fund for the benefit of those in our community hit hardest by COVID-19.  The Community Foundation assembled a small, dedicated Grants Committee and committed to respond to nonprofit requests within 72 hours. To-date $75,700 has been distributed to nonprofits most on the frontlines of Coronavirus crisis relief.

The Community Emergency Response Fund has assisted the following programs:
Teton Valley Food Pantry – served 85 households/week in May
Seniors West of the Tetons – 313 lunch meals delivered in May
Community Resource Center – provided resources for 125 families (April 1st – June 15th)
Teton Valley Mental Health Coalition – offering free counseling sessions
ABC – Above and Beyond the Classroom – lunch for their Summer Program
These nonprofits are providing necessary resources for many valley residents during a time of so many unknowns. At the Community Foundation of Teton Valley, we are incredibly honored and grateful to be able to help as community needs develop.

The Community Foundation is here year-round to offer support to nonprofits in a variety of ways; however, this spring allowed us to illustrate the solid foundation we offer our community and local nonprofits. On March 16th, Foundation staff met to break-down workstations and transition to working remotely. At noon that day, we hosted a planned, quarterly nonprofit meeting – transitioning it to Zoom. This quarterly, Talk with Tim, networking opportunity for Executive Directors quickly evolved into a scheduled weekly meeting with nonprofits through the middle of June. 

These meetings provided a venue to share resources, experiences, problems, and ideas amongst nonprofit leaders. In addition to the necessary connection cultivated during these meetings, they also helped nonprofits navigate unchartered waters together. The Community Foundation housed links and resources discussed during meetings on our website to ensure they were readily accessible and communicated nonprofit efforts during the onset of the pandemic to all of our constituents. 

The Community Foundation of Teton Valley is consistently here to help nonprofits gain footing when the way gets rocky, or unsure. As a nonprofit leader, and a trusted resource for nonprofits and donors alike, we appreciate being the centralized hub for nonprofits.
Consider reinforcing Teton Valley's Community Foundation with a designated donation during this year's Tin Cup Challenge.
Thank you for your support.
___________________________________________
2019 Annual Report