January 1, 2021 – December 31, 2021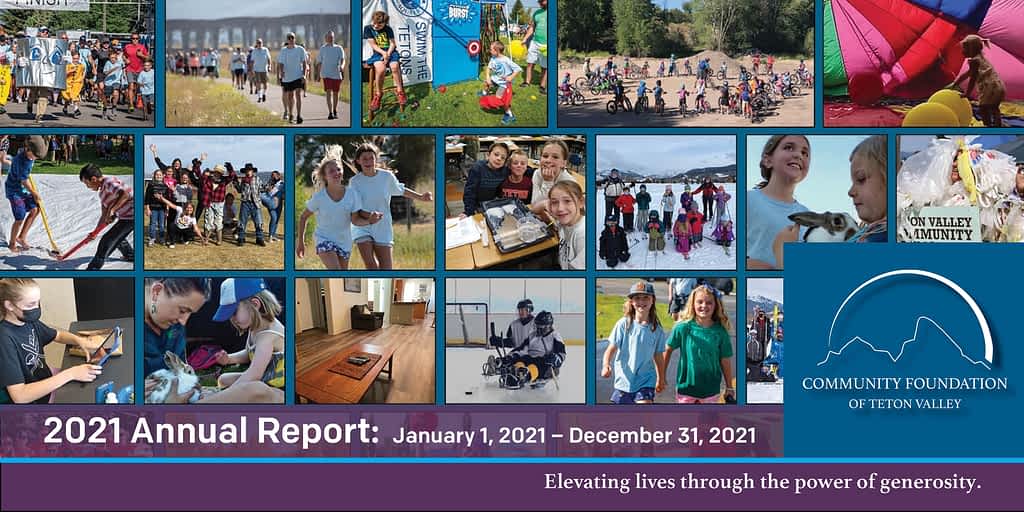 Elevating lives through the power of generosity.
2021 IMPACT:
Click on the program of interest below to jump to that section.
Thank you Tin Cup Challengers!
2021 Community Challengers
Tin Cup Challengers are a special group of individuals who give $1,000 or more to provide a Matching Grant for participating nonprofits. The generosity of our Challengers inspires increased community giving and is the key to the Tin Cup Challenge's success.
2021 Business Challengers
Business Challengers are community leaders who recognize the significance and real impact Tin Cup funds have in our community. These businesses understand the rural nature of Teton Valley and the necessity of neighborly support to thrive. As Business Challengers, these companies are giving back to the whole community by supporting a Matching Grant to all participating nonprofits.
Silver Business $15,000+
Copper Business $7,500+
Nickel Business $5,000+
_______________________________________________________________________
Pewter Business $2,500+
Brass Business $1,000+
Friends of the Challenge $250+
___________________________________________________________
Supporters of the Challenge $1-$249
In-Kind Donors & Super Volunteers
Nonprofits expressed a decreased need for Emergency Response Funds in 2021. The fund continues to exist and supports nonprofits in need, as necessary.
2021 Community Emergency Response Grants:
2020/21 Community Emergency
Response Fund Donors
Designated Funds
Bates Teton River Access Project
Community Foundation of Teton Valley Competitive Grant Program
Community Foundation of Teton Valley Youth Philanthropy
Friends of the Valley of the Tetons Library, Driggs Branch Permanent Building Fund
Teton Creek Corridor Collaborative
Teton Valley Community Emergency Response Fund
Donor-Advised Funds
A.J. Linnell Memorial Trail Fund
Andy Tyson Memorial Fund
Anjali Tate & Gregory Young Fund
Anonymous
Deepen Fund
J. Carlo Cannell Fund
John & Rosemary Young Fund
Margie Singleton Memorial Fund
Mark & Robin Anderson Family Fund
O'Connor-Larson Donor Advised Fund
Peaked Sports/Richard Weinbrandt Fund
Peter David Brendsel Fund for Childrens Literacy
Pierson Charitable Fund
Spark Fund
Susan & Donald Radkoski Charitable Fund
Watters Family Charitable Fund
Work Family Fund
Endowment Funds
Scholarship Fund
Thank you for supporting the Foundation directly!
2021 Staff
As the hub for Teton Valley nonprofits, consider supporting the whole community by supporting the Community Foundation of Teton Valley. Together we are stronger.
Local nonprofits fill critical roles in our rural community. This has become even more apparent over the last two years of the pandemic. The Community Foundation's main focus and primary goal is to provide a foundation for our nonprofit community to build upon. With your donation, you provide stability, consistency, resources, a shoulder to lean on, and a ready cheerleader for all of Teton Valley's nonprofits year-round.
Thank you for your support!
2022 Tin Cup Challenge Giving Period: June 1 – July 22
The Community Foundation is a nonprofit too! Remember the Community Foundation of Teton Valley when making your designated nonprofit Tin Cup gifts this year and join us to celebrate Teton Valley's hard-working nonprofits and our generous community on Event Day – Saturday, July 16th in the Driggs City Park – Register to run for nonprofits!